Wow! Nano Pods – Harry Potter Collection [AD]
Nano Pods are BRAND NEW to the market and they have been the Number 1 product at pre launch and currently they are the most successful product from WowStuff! It will be hard to beat with another product and all the stockists have loved them for their cute designs and stacking ability.
This is going to be a big item for 2023 as not only is it a blind box, and a collectible but it is also connectable. You can create patterns, names, shapes whatever you want to do with your collectible figures and pods.
Nano Pods bring your favourite characters to life with glow-in-the- dark fun!
Each character is located in their own hex-shaped Pod with built in UV lights. Simply swipe across the sensor to light your Wow! Pod using your hand. See your chosen character, along with a hidden mystery feature, instantly revealed with light!
In each collection there is 12 to collect but over all the different collections there are over 48 Nano Pods. The different collections include Marvel, DC, Disney and of course Harry Potter. I would image there are more collections in the pipeline too.
In the Harry Potter collection there are mini styles of your favourite characters like Harry Potter, Hermione, Dobbie and Ron Weasley and I cannot wait to see which ones I get in my 6 packs I have been gifted.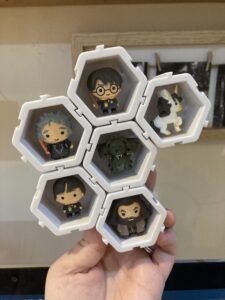 Where Can You Buy Nano Pods?
The current collections are: Marvel, DC, and Harry Potter which I found at Smyths Toy Store and Disney which I found at The Works & Sainsburys Instore.
As they gain momentum and get more popular I would imagine they will be available in more stores and by the looks of it the RRP is £5 so perfect for pocket money spending.
---
DISCLAIMER: If marked with a ** then it is an affiliate link – if you purchase from this link I may receive a few pennies from the retailer. It doesn't increase the price you are paying.
DISCLAIMER: This item has been gifted to us but our opinions do not reflect on the products company, or the thoughts of any social media companies we have shared this review on.
We give our 100% honest opinions on the products we test and we have declared it is an AD and gifted as required by the ASA guidelines