Grab These Birthday Freebies In 2023
Did you know you can get birthday freebies from signing up to a mailing list?
You will probably see there is a theme going here and it involves a lot of food! It is one of my favourite things to get people to sign up too as they never realise just how many birthday freebies you can get.
Toby Carvery
Toby Carvery's birthday freebies can vary and I have had different ones over the years but the current offer for 2023 appears to be £10 off when you spend £25 on food when dining in. Neither of our birthdays are until June & July so I am going off what I have read online but will update when I know for sure.
Some venues if you mention it is a birthday will offer a free dessert or a free ice cream but this is totally dependant on staff / venue / policies.
This offer is usually valid 2 weeks before and 2 weeks after your birthday date.
Find your nearest Toby Carvery here. T&C's apply and they can be found on their website.
TGI Fridays
TGI Fridays offer you and up to 5 friends a free cocktail when you purchase a main meal. I hope to use this one myself this year as I drink and Nick can't as he drives. Expiry dates are really important with these offers as previously TGI would have one of the shortest valid dates. I think it is 7 days either way but it might be more I am not 100% sure.
Download the TGI Fridays UK App on your device (app store, play store, android etc) and use my referral code MEGARI9440 which will earn me 25 stripes when you scan barcode on your receipt. You can then get a referral code for yourself and when you share it you will hopefully earn stripes if people use it.
Stripes = Rewards so the more the better.
Find your nearest TGI Fridays here. T&C's apply and they can be found on their website.
Brewers Fayre
Brewers Fayre off you a free main meal when you present your loyalty card for your birthday freebies – you'll also get 25% off for joining their mailing list if you aren't already on it.
I attempted to sign up for this one today to check the length of the voucher / offer but the server was down so it might take a few attempts to sign up.
Find your nearest Brewers Fayre here. T&C's apply and they can be found on their website.

Subway UK
I LOVE a Subway cooking especially the white chocolate and macadamia nut cookie. I didn't realise this was a freebie until recently but on your birthday you can get a free cookie.
Grab one from Subway using your app – it is valid for a month from your birthday.
Find your nearest Subway here. T&C's apply and they can be found on their website.
Invite a friend to join the Subway Rewards app and you will BOTH get 200 bonus points when they register their account with the code and they make their first purchase.
Use my code: X-61LQBZE when asked for a referral code.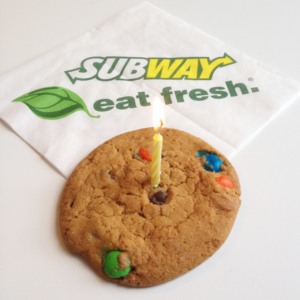 Krispy Kreme Stores
Grab a free doughnut from your local Krispy Kreme Store all you need to do is register on the app and add it to your wallet when you get the email. They send out a lot of offers via the app so it worth having on your phone, if you have one locally.
The only catch with this is it must be an actual store not a kiosk point in a supermarket. Not available in Tesco, Selfridges, Bentalls, Morrisons, Sainsbury's, Asda, Moto, Universities, Welcome Break, Roadchef, EuroGarages, Center Parcs, Krispy Kreme mobile events, Krispy Kreme Occasions or online.
You can also earn vouchers by collecting points when you purchase any Krispy Kreme products.
Find your nearest Krispy Kreme Location here. T&C's apply and they can be found on their website.
Costa Coffee UK
Signing up to the Costa Coffee App (via any of the app stores) will get you free cake – no purchase required. I don't drink hot drinks so the cake / muffin is a good choice for me.
When you start using the Costa App you get 1 bean to start, collect 8 beans to earn a free drink, or buy 4 to get 1 free with a reusable cup.
My invite code is 1HYBT if you can enter a referral code or I can send you a link just drop me a message. When you use my code we will both get 5 beans.
Find your nearest Costa here. T&C's apply and they can be found on their website
Other Companies With Birthday Freebies:
Body Shop – Usually a £5 voucher when you meet the minimum spend
Bare Minerals – Rumoured to get a free small product / discount during your birthday month
Hotel Chocolat – Usually a £5 discount when you spend £5
Prezzo – Free Prosecco when you meet the minimum threshold
Greggs – Free Coffee when you register on the app and free Sweet Treat on your birthday.
Nike – 25% voucher when you are registered online
Space NK – When signed up to Ndulge it is rumoured you get a free small product in your birthday month
Crumbl – Join their birthday club for a free crumbl.
Pizza Express – Free dessert when signed up
Gaucho Grill – Free cocktail when you sign up
Fitflop – Birthday discount varies so make sure you sign up
H&M – A discount code with a minimum spend
Oliver Bonas – £5 discount when you spend over £20
Lush – Rumoured to get a free small product if you go in store on your birthday
---
Enjoy These freebies when you sign up & if you have any other Birthday Freebies then please comment them below or email me with the suggestions.