We have been gifted a range of ZimpliKids products and we couldn't wait to try them out! We got GIFTED Gelli Baff, Slime Baff and SnoBall Play.
Gelli Baff
We started our review of the ZimpliKids Products by using Gelli Baff and it is a really good product but we did have a little mishap as we ended up dying Ethan's hand bright PINK. As we don't have a bath in our house we decided to test it out in a tupperware as a bit of sensory play. This in turn means we can try them without having to fill a full bath!
The instructions almost seem too simple for this to work but of course it did work and it was seriously good fun to play with and Ethan even got his cars involved so it worked well as good sensory play.
We only used a small amount so we have saved some for a later date to use as we didn't require the whole sachet for the amount of water we used today. This would be really good for a science lesson in a primary school or for sensory play within a nursery setting as it is so easy to set up and Ethan loved watching it change from water to the "Gelli". It happens really quickly so it takes literally minutes to set up and Ethan had loads of fun playing with it. Ethan has a short attention span so it is hard for him to stay playing with something for longer than 5 minutes and this held his attention pretty well considering its such a simple concept.
Ethan is trying to do his film his own content for our Youtube Channel so this product is a great one for him to film and review and I can safely say it got a thumbs up from him as he keeps asking for more and wanting to try the other items. This product brings together his favourite things which are making a mess and gooey items. I love that it is non toxic and basically just water which is super easy to clean up as they include a packet which is used to dissolve it.
The colour we got was Princess Pink which of course isn't considered a "boy" colour but Ethan really couldn't of cared less as he got to make a mess and not have me nag at him! There is Green, Red, Blue and Pink available in the "Gelli Baff" range so it suits everyone's tastes.
WARNING! LEAVE IT 15 MINUTES BEFORE USING IT OR YOU WILL GET PINK HANDS LIKE ETHAN
My rating out of 10 is a 7/10 it is something I would purchase for Ethan's friends at school.
Slime Baff – ZimpliKids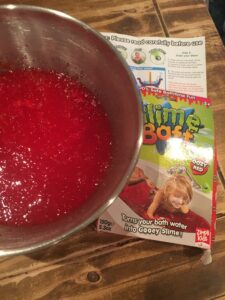 I thought it was only right to move on to the Slime Baff after the Gelli Baff so they could be compared whilst it was all still fresh in my mind. The process for making it was a lot simpler and it formed a lot quicker despite a few lumps and bumps it was very realistic to store bought slime.
Ethan LOVED it and he didn't want to stop playing it. I'm not so fussed on slime as I don't like the texture or the feel of it but as far as slime goes this was a good one!
My rating out of 10 is a 8/10 purely because of how much pleasure Ethan got out of it and how much he loved it. It was also easy to clean up which is a huge bonus as I hate cleaning up 'normal' slime.
We also managed to not stain his hands this time as I read the instructions properly this time. Ethan has since used this in the bath at my parents and he loved it so much. It didn't stain the bath either which we were worried about.
SnoBall Play – ZimpliKids
We had to wait to use Snoball Play as we needed a dry day as we wanted to do it outside and finally it arrived and Ethan was SOOOO excited to use it. It was super easy to make, and the instructions were really clear. It felt like the real deal and it was super easy to clear up!
We made up the mixture to the correct measurements as written in the instructions and left it 15 minutes to form into "snow". We took ours outside to play with as I didn't want to make a mess inside the house, even those it's easy to clean up. Unlike the Gelli Baff it can just be watered down or swept up and doesn't need anything to dissolve. It's environmentally friendly and non toxic.
We made around 30 snowballs with one packet of the mixture and it was honestly such good fun to play with this mixture as it was light hearted fun considering we don't get much snow in this country. I suspected this would be my favourite item and it hasn't disappointed at all. It's utterly my favourite product out of the three and I will be buying it for all his friends.
As per the other products, Ethan and I have recorded a YouTube review and it can be found over on www.youtube.com/dittrichdiary.
Ethan gives it a 10/10 and my rating was a 9/10 BUT that is only because there wasn't enough in the box! They need to make a jumbo box of this stuff so everyone can join in!
Thank you ZimpliKids for the gifted products and letting us review it for you! It was lovely to see you at The Toy Fair '22.