Bird and Blend have GIFTED me their Valentine's Special Teas to try and tell you all about it. If you aren't a big tea drinker then take the quiz to find out what you would like. I love the sound of a lot of the unusual ones like Chocolate Digestive as I am not a huge traditional tea lover so the extra flavours intrigue me.
First in this Valentine's Day bundle we have the Tea Bomb which sounds amazing! Why not spoil your loved ones with the ulTEAmate loved up tea experience! These lush rose tea bombs make an instagramable cuppa and they are perfect as a one-of-a-kind gift or a just for a treat for that 11 o'clock treat.
These tea bombs have been handmade with a collab with Sweetopia. They contain a single teabag of our limited edition tea blend Whole Lotta Love within a rose shaped outer shell. They create a totally imaginative and creative tea drinking experience.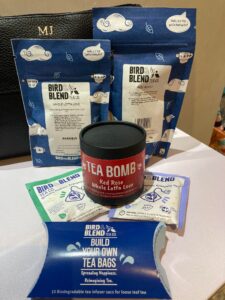 The first of the sachets we have got is Whole Lotta Love which from what I have read turns pink which is like WHAT?! It is new and I love how it is caffeine-free. It is a spin on their famous Love Potion blend which means it has the same strawberry candy taste but now it is caffeine free & with rainbow funfetti hearts! It is the tea that is included in the tea bomb so it's nice to have it on its own and not just in the tea bomb.
The second sachet we have is a Red Velvet tea which to me sounds amazing as it is one of my favourite cakes but I am not too sure how it would go in a tea?
It is full of luxurious Sri Lankan black tea, cocoa shells, sweet beetroot slices & pomegranate flowers. It also turns pink when you add a splash of milk to it which is PERFECT for Valentine's Day?! This one has medium caffeine in it so be aware of that before you drink lots!
If you are new to different teas then this Pick 'N' Mix Box would be perfect for you as it gives you a mixture of 5 different teas which is around 40 cups of tea depending on size. If you know a tea lover in your life then head on over to Bird&Blend for some of the best cups of tea I have ever tasted. It was yummy!
---
All views are my own and do not reflect on the businesses mentioned, no money was paid for the businesses to feature in my article and the only exchange was them giving me products but at no point did they state it was for review, promotion or paid work. It was just them being nice.