Disney 100 Plush Toys [AD]
Disney is 100 this year and they have dedicated this year to be a full-year celebration of the Past, Present, and Future of The Walt Disney Company.
Simba Smoby UK is proud to be launching its own range of plush toys to celebrate the big occasion and we are super lucky to have got our hands on two of them to show you!
I loved Disney films growing up and now watching them with my own children is such a sweet moment and I can't wait for them to love them as much as myself and my husband do. When I was 18 I was lucky enough to be taken to Disney In Florida and the magic and the feeling of being there made me feel like I was a little girl again. Even at 18 I was carrying around my autograph book trying to get all the characters to sign, and get photos with them. It really is magic and you don't ever lose that feeling even now over 10 years on.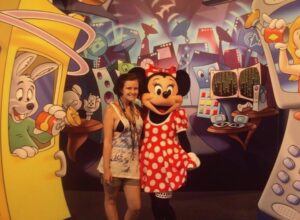 We are so lucky to have been sent the new Disney 100 Sparkly Minnie in her stunning platinum celebration outfit along with Winnie The Pooh in the Disney 100 Platinum Colour Series in gorgeous satin and sparkly fabrics.
The toys are not only so special due to the Disney 100 Platinum range but how soft they are. Minnie is super sparkly and her body and ears are like velvet which Ezra loves to stroke against his face. Winnie the Pooh isn't as soft but the colours are so bright and I really like how they stuck to the original design of Winnie The Pooh and not changed him.
I brought myself a Minnie Mouse Soft Toy when I went to Florida over 10 years ago and I still have it sitting on my bed now so now she has a fancy sister.
My husband loves to have movie afternoons cuddled up on the couch introducing me to all the Disney films I haven't seen and so far we have watched Lion King, and Alice in Wonderland 1&2 I am looking forward to continuing my film education.
Get yours now over at https://www.selfridges.com/GB/en/cat/disney-disney100-minnie-soft-toy-15cm_R04078619/
---
DISCLAIMER: If marked with a ** then it is an affiliate link – if you purchase from this link I may receive a few pennies from the retailer. It doesn't increase the price you are paying.
DISCLAIMER: This item has been gifted to us but our opinions do not reflect on the products company, or the thoughts of any social media companies we have shared this review on.
We give our 100% honest opinions on the products we test and we have declared it is an AD and gifted as required by the ASA guidelines