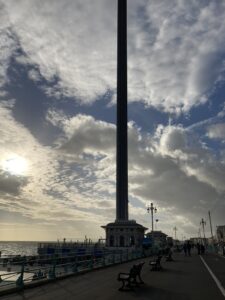 The British Airways i360 has been on the seafront for around 5 years and I was so glad we finally got to go on it, we got gifted 2 tickets for the i360 but all views are our own.
It is hard to explain what it is but think of it like a Ferris Wheel or The London Eye but better and in a doughnut shape. We loved going on the Pod and it gave us amazing views of the city and beyond. Our only criticism is the wait time before boarding is long winded and you don't really know what is going on as nobody keeps you updated but this could've just been a one off. Just would've been nice for a member of staff to keep everyone informed as it was very busy and crowded in the boarding lounge.
The design of the i360 is different. It's doughnut-shaped glass pod acts as both a lift and a viewing platform, carrying you up and down the tower while providing unobstructed panoramic views from start to finish. The design of the pod allows you to walk around and enjoy the views of the city, the beautiful South Downs National Park, the UNESCO Biosphere and, if you are lucky you can see the Isle of Wight.
If being up in the air isn't enough for you then there is also a bar so not only can you be 450 ft above the ground level, you can do it with a glass of champagne in your hand. Honestly it makes an awesome IG shot and it is something else to experience it. I am so glad we did it even though both of us aren't keen on heights, we didn't feel unsafe or concerned at any point and really enjoyed the experience.
If you have a head for heights and a daredevil streak in you then the Walk360 or the Drop360 might be for you. I have to admit I do really want to do it but also know I would be very scared! Climb360 is available too, if you want more details then follow this link: Climb360.
Walk 360 Includes:
✓ BA i360 pod flight to 138 metres
✓ Open-air walk on top of the pod
✓ Individual, group and corporate bookings
✓ 2 souvenir digital photographs
£40
Drop 360 Includes:
✓ Thrill-seeking experience
✓ BA i360 pod flight
✓ 138-metre controlled descent
✓ Individual, group and corporate bookings
✓ 2 souvenir digital photographs
£99
They hold many different events in the pod including: Yoga In The Sky, Santa Flights, Winter Solstice Flights and many more – check out the website for more information and events.
---
DISCLAIMER: This item has been gifted to us but our opinions do not reflect on the products company, or the thoughts of any social media companies we have shared this review on.
We give our 100% honest opinions on the products we test and we have declared it is an AD and gifted as required by the ASA guidelines.
---