Microsparks – Laser Pegs [AD]
Build, Create, and Illuminate with MicroSparks! In our pack we got 2 vehicles ready for us to build – which are The Red Wing Fighter and the Micro Dragster. Each set comes with easy to follow, step by step instructions for you to build the model vehicles and the best thing is that you can rebuild again and again! It is very much like lego in the building concept but this has Laser Pegs in them which light up so it is very awesome in the eyes of a 9 year old.
Laser Pegs is the first light up construction system that combines the traditional construction play with the cool element of light. If you can imagine it you can build it, with Laser Pegs it's all down to your imagination.
Laser Pegs® work with batteries (3x LR41 button cell batteries included) and draw very low current. The new chip technology with the LED lights allows the batteries to last 4-5 days if they are left on continuously (which kids tend to do). If left on and they start to run out then they will start to dim to conserve battery life and after one hour, they will turn off. Once you start playing with them again, you turn the switch to off, then on and they come back at full brightness. They are estimated to have around a years battery life with daily play.
How did we find Microsparks – Laser Pegs?
They are honestly great fun for rainy days, and they will be welcome additions to the toy box. If you have issues with your dexterity then this might not be for you as they are a little fiddly and can be hard to click into place. Ava and Ethan both enjoyed using them and building the figures but sometimes did have to ask for help to get it to click together.
Both kids said it was a 8/10.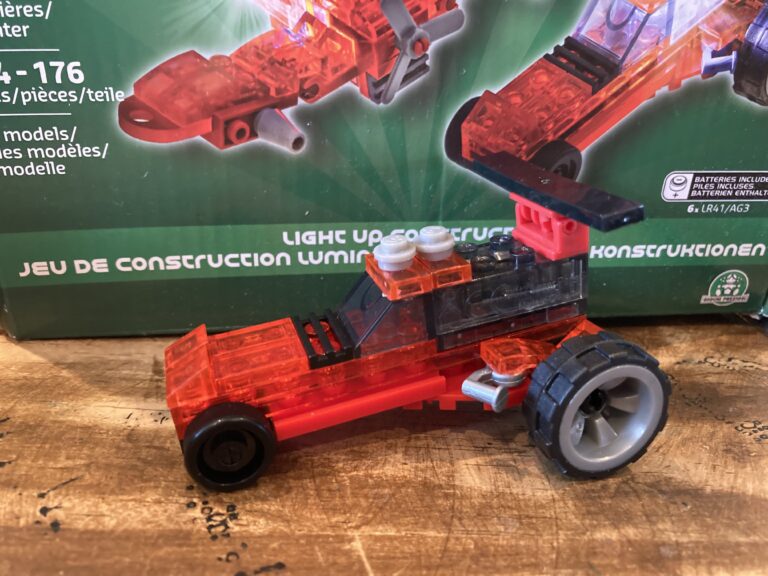 Where Can You Buy Them?
We got them from our BlogOn Kids event that we went too back in July but when searching Google for answers I found them at this link for £8.99 at time of publishing the post. They also stock them at The Range online but unsure if they are in-store too.
---
DISCLAIMER: This item was gifted to us in a goodie bag but our opinions do not reflect on the products company, or the thoughts of any social media companies we have shared this review on.
We give our 100% honest opinions on the products we test and we have declared it is an AD and gifted as required by the ASA guidelines.
---