Parking & Hotel Advice in Brighton
Nick and I managed to escape to the lovely city of Brighton for 48 hours for our honeymoon. Despite the awful weather on the first day and Nick's horrendous sciatica we managed to do quite a lot and we have got lots of recommendations for you. First we will start with our parking tips and our hotel recommendation.
Parking In Brighton Town Centre
If you have ever been to Brighton then you will know that parking is horrendous, expensive and a nightmare but we managed to park for our whole trip (30 hours ish) for £33. Our hotel didn't provide parking and they recommended The Jurys Inn or The Lanes car park but both of them were very expensive and very full. We did some research and checked the seafront but that was also priced at a high amount and we started to feel seriously deflated at spending nearly £50 for our trip on just parking. Once we started driving to locate a car park we stumbled across the Churchill Square shopping centre and their carpark allows for 24 hour parking, and it was at a decent price. NCP wanted to charge us £60 so that was avoided.
If you want to park at the Churchill Square Shopping Centre then aim for the green car park and use the postcode BN1 2FB. We stayed for 28 hours in there and paid £33, we accessed the car multiple times whilst it was in there and it is in the perfect location for people who want to visit the Pier, The Lanes or the BA i360.
Churchill Square Car Park Rates
Up to 2 hours – £4.50
2-3 hours – £6.00
3-4 hours – £8.00
4-6 hours – £15.00
6-8 hours £17.50
8-12 hours – £20.00
12 -24 hours – £25.00
24 hours – £25.00
If your stay exceeds 24 hours you will be charged the standard 24-hour charge plus the costs for the additional time brackets. Please see terms and conditions.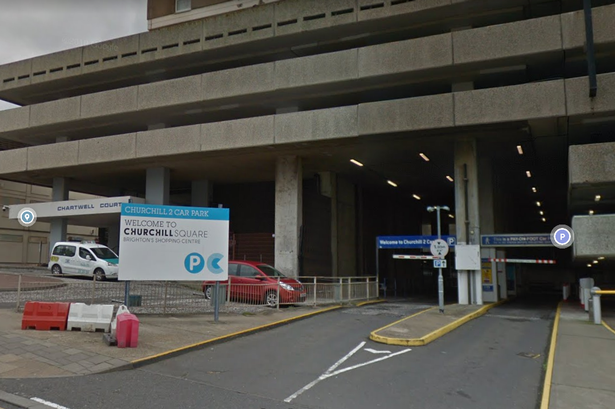 Our Hotel in Brighton
We wanted a hotel that had a sea view, a pool and preferably parking but we compromised on parking for the other two must haves. We changed our minds many times but we finally settled on The Queens Hotel and Spa which we booked through booking.com as it meant we could pay on arrival. We notified the hotel it was our honeymoon but didn't expect any freebies it was just put under the reason for your visit.
On arrival it was a nightmare to get too as you can't turn right by the hotel, nor can you park nearby so if you have lots of bags you have to take them with you from the car park of your choice. Churchill Square is about a 10 minute walk at an average pace and The Jury's Inn is next door but more expensive.
Once we worked out our parking, how to get to the hotel etc, we booked in and luckily it was 3pm by this time so our room was ready. They upgraded us to a 4th floor room as it has the best views but for some reason it came with 2 double beds (why?!) so that was odd but either way the room was lovely. They noted it was our honeymoon so they gave us two complimentary drinks which could be wine, beer or a soft drink, this was a nice touch and really made us feel relaxed after the long journey.
Our room was lovely and clean, with freshly made beds, good amount of towels and they were right the view was amazing. It had a decent sized tv with all the channels and netflix too, as well as a mini fridge which would of been brilliant if we had brought Ezra with us.
The spa, pool and gym is all included in your stay and we made full use of the pool as it was open until 9pm. We got the whole pool to ourselves for an evening swim which was lovely and the staff were really welcoming and accommodating.
The breakfast in the hotel included all the usual fruit, hot buffet, pastries and you could also order pancakes off the menu – which were lush. Nick and I both agreed the breakfast was lovely and the staff were really attentive and quick to refill all the foods when they were running low. Breakfast didn't require booking in but they did warn me that it gets busy especially at the weekends so there might be a short wait. We got it included in our room price otherwise it is £12.95 extra per person.
Would We Recommend The Queen's Hotel?
We would recommend the hotel as long as you can navigate the parking or book a slot on a rent my parking spot website. We really enjoyed our stay in The Queen's Hotel and we definitely wish we could of stayed another night as it was the best night sleep we got in ages.