If you didn't know already then Nick and I managed to escape to the lovely city of Brighton for 48 hours for our honeymoon. Despite the awful weather on the first day and Nick's horrendous sciatica we managed to do quite a lot and we have got lots of recommendations for you. If you didn't see our previous post then click here for Hotel and Parking recommendations. If you are looking for things to do when you are in the City of Brighton then this is the right post for you.
Disclaimer: We were GIFTED 2 tickets to go on the British Airways i360 to experience it and write up about it if we enjoyed it. Our thoughts are honest and do not reflect on the business, company or PR company.
The Brighton Palace Pier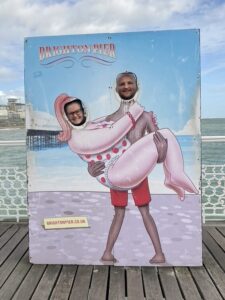 We would 100% recommend The Brighton Pier, it has shops, rides, arcade machines, tarot readers as well as shows too. It can keep you busy for hours but make sure you have lots of 2p, 10p and £1 coins for the machines otherwise it can end up very expensive. There are also 2 penny press machines on the pier so make sure you have a £1 and a 1p if you want to get one to remember the trip.
The rides are extra but if you are looking to go on more than the odd one or two then a wristband would be your best value for money and you can purchase these in advance at this link.
My advice would be not to get your food or drinks on the pier as it is overpriced but venture slightly further afield for better prices and quality.
---
The British Airways i360 [AD]
The British Airways i360 has been on the seafront for around 5 years and I was so glad we finally got to go on it. It is hard to explain what it is but think of it like a Ferris Wheel or The London Eye but better and in a doughnut shape. We loved going on the Pod and it gave us amazing views of the city and beyond. Our only criticism is the wait time before boarding is long winded and you don't really know what is going on as nobody keeps you updated but this could've just been a one off. Just would've been nice for a member of staff to keep everyone informed as it was very busy and crowded in the boarding lounge.
The design of the i360 is different. It's doughnut-shaped glass pod acts as both a lift and a viewing platform, carrying you up and down the tower while providing unobstructed panoramic views from start to finish. The design of the pod allows you to walk around and enjoy the views of the city, the beautiful South Downs National Park, the UNESCO Biosphere and, if you are lucky you can see the Isle of Wight.
If being up in the air isn't enough for you then there is also a bar so not only can you be 450 ft above the ground level, you can do it with a glass of champagne in your hand. Honestly it makes an awesome IG shot and it is something else to experience it. I am so glad we did it even though both of us aren't keen on heights, we didn't feel unsafe or concerned at any point and really enjoyed the experience.
If you have a head for heights and a daredevil streak in you then the Walk360 or the Drop360 might be for you. I have to admit I do really want to do it but also know I would be very scared! Climb360 is avaliable too see here for more details on Climb360.
Walk 360 includes:
✓ BA i360 pod flight to 138 metres
✓ Open-air walk on top of the pod
✓ Individual, group and corporate bookings
✓ 2 souvenir digital photographs
£40
Drop 360 Includes:
✓ Thrill-seeking experience
✓ BA i360 pod flight
✓ 138-metre controlled descent
✓ Individual, group and corporate bookings
✓ 2 souvenir digital photographs
£99
They hold many different events in the pod including: Yoga In The Sky, Santa Flights, Winter Solstice Flights and many more – check out the website for more information and events.
Disclaimer: We were GIFTED 2 tickets to go on the British Airways i360 to experience it and write up about it if we enjoyed it. Our thoughts are honest and do not reflect on the business, company or PR company.
---
The Upside Down House Brighton
We have heard about these Upside Down Houses but we have never been to one before despite the closest one to us being in Clacton. We couldn't turn down the opportunity to do it especially as we didn't have a buggy for once. Honestly if you get the chance to do one and you don't suffer with any vertigo or balance problems then do it as it was so much fun. It did set off my vertigo but I put up with it as I wanted to do it so badly.
Each Upside Down House is unique and visitors can capture many memorable and surreal photos and videos but just flipping it upside down. It is an experience and the gentleman at the Brighton House said it is often enjoyed more by adults than children which made sense.
I really like how Upside Down House as a company use local artists, in their houses and they also try to theme the houses differently depending on the time of year; e.g. Haunted Upside Down House or Santa's Grotto.
They support a number of local charities, as well as larger charities such as The Wildlife Trusts.
We paid for our tickets and it is £5 per person and under 3's go for free in the Brighton Location. For other houses check out this link.
---
The Lanes Shopping Area
The Lanes shopping area isn't just one street like I originally thought, it is a combination of many little streets, shops and food places. We got extremely lost trying to find the street/area called "The North Laine" but once we found it, apple maps helped us find it again and again. I wanted to find this street as I had seen it mentioned on Zoe Sugg's Youtube that there was an original photobooth shop called photomatic and I couldn't believe it when we found it!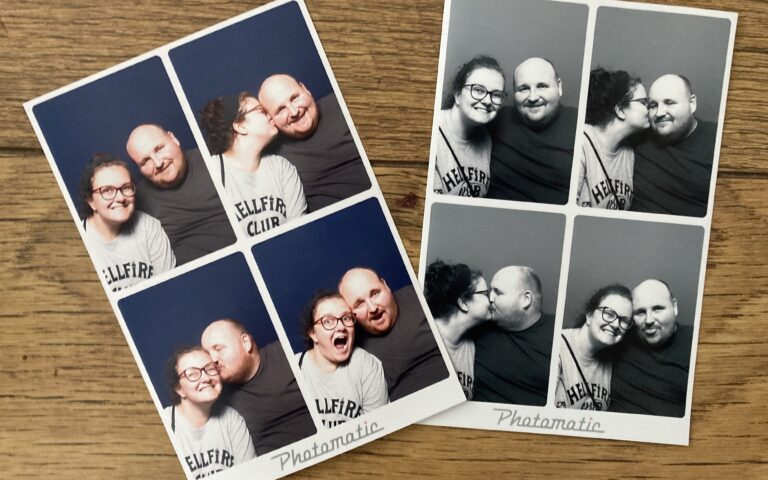 I was so excited to use the photo booths and get some cute proper 90's style photos of us and the colour photobooth even has a wind machine! Each photo booth session is £4 which you exchange at the counter for a special token. The shop can change your photos into some really cute gifts too if you have a certain photo that you love. They are really reasonably priced too and the shop was super busy when we went in so I am guessing getting there early is better.
We really enjoyed getting our pictures snapped and we are gutted the other machine was broken but all the more reason for us to return and get them done again. If you want to know more then check out their website.
We would 100% recommend you finding them and spending some time going back to the old school. Massive mention and thank you to the owner who spoke to us for ages and gifted us one free token as it was our honeymoon – we really felt welcomed.
DISCLAIMER: Our first token was paid for and I wasn't required to post about this company, he was just being nice.
OPENING TIMES
SUN – FRI 11AM – 6PM
SATURDAY 10AM – 6PM
ADDRESS
22 GARDNER STREET .
BRIGHTON BN1 1UP
---
Butterfly Gardens @ Middleton Common Farm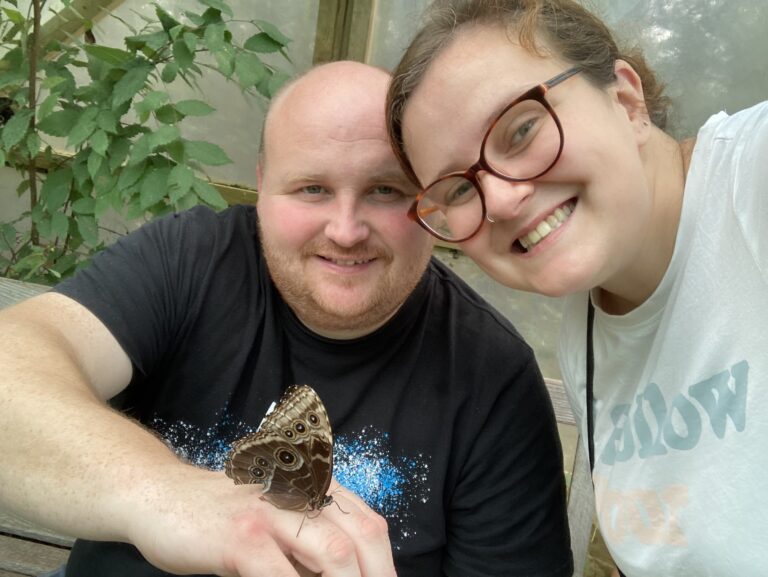 Now this one isn't strictly in Brighton town centre but we visited on the way down and we couldn't not include it as we had a fabulous time and want to support the smaller businesses too. I actually found this via Dianne Buswell / Joe Sugg/ Zoe Sugg / Alfie Deyes instagram I think it was and once I realised it was on route it was a must do. I have never done a butterfly garden before but I have always wanted to so this was a dream come true for me. It was £6 each but it is unlimited time in there and you can come in and out as many times as you like.
It does get warm in there so they suggest you do one walk round and then get some air before going back in again. There is a small gift shop and an adorable little farm shop where we got some lush biscuits so make sure you visit the little shop before leaving.
It is around a 30 minute drive from Brighton City Centre and if you get the right route then you will be taken through the nature reserve which is just amazing and full of such lovely vast amounts of greenery.
Autumn Prices 2022
Prices are £6 for Adults , £4 for Children.
Under 5's go free. (Maximum 2 Under 5's per paying Adult)
We Are Open Every Day In Autumn!
10am – 5pm (last entry 4.20 pm)
Under 5's go free !
---
Casa Della Pizza Brighton
We stumbled across this place by pure accident but honestly unlimited pizza, pasta, and salad including chips, onion rings and wings what is not to like?
We were trying to find North Laine and came across this restaurant and it was really busy, full of locals, tourists, families and we decided if it was this popular then it must be good. We left stuffed, so full of food and we honestly would of had more if our trousers would of allowed us. It was so tasty, flavourful and the wide range of products was brilliant. The pizzas were steaming hot, with lots of choices of toppings and they tasted amazing – quite frankly I would return to Brighton just to eat here.
Not many places you can both eat for £30 with drinks and leave feeling full until the next morning and not feel bloated or sick. I can't find a website for them but I have found their facebook page so I will link that here for you.
It appears they also do takeaway but I can't confirm or deny it.
---
Bankers Fish & Chips
I don't have any photos of this as we were too hungry and just ate it but definitely worth checking out Bankers Fish & Chips if you want fair priced and really good food! It is a little away from the pier and the sea but it is around a 20 minute walk or you can park nearby. It was recommended to us and we are so glad we went and tried it. 10/10 from me for their cod and chips.
---
What Do We Want To Do Next Time?
48 hours is never enough time to fully enjoy somewhere so next time we come down to Brighton we plan to visit: