Chocolate Free Easter Gift Guide
Easter can be all about the chocolate and as a mum to various ages I know that it can all get too much, and hang around for too long. I have made this list of toy alternatives that are under £10 and have gone down a treat in our house through previous ads.
This air clay from Play-Doh includes 6 colors of silky-smooth modeling clay that dries in the air – no oven needed! It won't crumble, crack, or make a mess like traditional clay, so the creative kid in your life will be able to create their very own keepsake pieces without any fuss.
It is aimed at ages 4+ years
One kit includes 6 packs of bright coloured clay (10g each), a tool, 2 keyrings, a sculpting guide, and a set of googly eyes.
One kit includes 6 packs of pastel coloured clay (10g each), 2 tools, a mould,and a sculpting guide,
No oven or kiln needed – just air
Non-toxic
A mess-free art activity!
One kit includes 6 packs of colorful clay (10g each), a tool, 2 keyrings, a sculpting guide, and a set of googly eyes. There seems to be different items in different kits depending on which ones you choose. I found 4 different types of kits on The Works by typing in 'Play-Doh Air Clay'.
You can get this kit from many different toy stores and Amazon.
We were recently asked if we would like to review Aqua Dragons which is total nostalgia for me, as when I was younger I had Sea Monkeys which are similar and I didn't actually realise they still sold them.
We Were Sent The Aqua Dragons Starter Set Which Included Everything We Need To Get Them Growing And Living. Check out our review over on this post.
Nano Pods are BRAND NEW to the market and they have been the Number 1 product at pre launch and currently they are the most successful product from WowStuff! It will be hard to beat with another product and all the stockists have loved them for their cute designs and stacking ability.
This is going to be a big item for 2023 as not only is it a blind box, and a collectible but it is also connectable. You can create patterns, names, shapes whatever you want to do with your collectible figures and pods.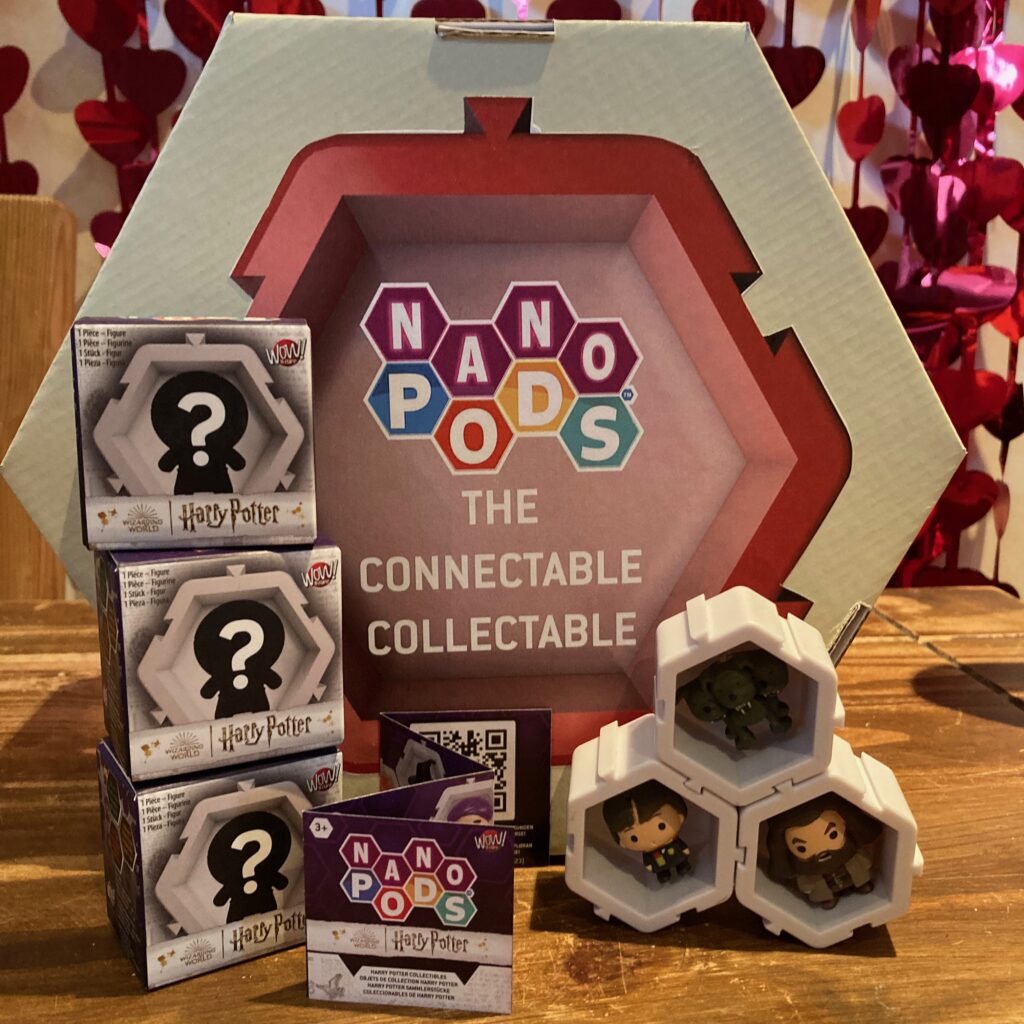 We have loved using these kits over on TikTok and they are super easy to use, as well as being an authentic Bubble Tea Kit.
Each gift box makes 12 drinks. Suitable for Vegan & Gluten Free Diets
In The Box : Flavoured Syrup & Powders, 3 x 100g Popping Boba, 200g Tapioca, Speciality 12 Tea Bags, 6 Cups & Bamboo Straws.
Fruity – Flavours: Strawberry, Green Apple, Passion Fruit and Pineapple. Popping Boba: Strawberry, Mango, Green Apple.
Summer Fruits – Flavours: Mango, Raspberry, Kiwi, Blueberry. Popping Boba: Strawberry, Blueberry, Passion Fruit.
Traditional – Flavours: Taro, Matcha, Taiwanese Milk, Lychee. Popping Boba: Cherry, Lychee, Peach.
Milk – Flavours: Strawberry, Coconut, Honeydew Melon, Blueberry. Popping Boba: Cherry, Mango, Green Apple.
BobaLife are passionate about Bubble Tea and their mission is to provide the very best ingredients to people who share their passion to enable them to make their favourite drinks at home.
Character Plush Toys – Rainbow Designs
Ezra loves Paddington and Ethan used to love Peter Rabbit so I thought adding a soft toy option to this guide would be a welcome addition. We love the soft toys from Rainbow Designs who are the home of classic characters since 1971. I have always wanted a Classic Paddington with wellies since I was a child so this had to make my list but if you are looking for younger ages such as 18 months + then the softer version would probably be better and more snuggle friendly. They even have the tv version if they love the series like Ezra.
I know not all children are Paddington crazy but they have so many other brands you will be spoilt for choice.
Soft toy ranges include:
Paddington Bear / Peter Rabbit / The Very Hungry Caterpillar / Guess How Much I Love You / The Snowman & The Snowdog / Disney / That's Not My….. / Elmer / Spot the Dog / Miffy / Snoopy / We're Going on a Bear Hunt.
I also LOVE the look of this book called 50 Things to do before you're 5 and 3/4 in the theme of Winnie The Pooh. It does state for trade customers only but I assume you can find it in bookstores / online.
---
Other ideas: Weebles, Soft Toys from their favourite shows (i.e. Pinocchio and Friends, Bluey, Cocomelon, Harry Potter etc), Lite Brite Mini,
---
DISCLAIMER: If marked with a ** then it is an affiliate link – if you purchase from this link I may receive a few pennies from the retailer. It doesn't increase the price you are paying.
DISCLAIMER: This item has been gifted to us but our opinions do not reflect on the products company, or the thoughts of any social media companies we have shared this review on.
We give our 100% honest opinions on the products we test and we have declared it is an AD and gifted as required by the ASA guidelines