We were recently asked if we would like to review Aqua Dragons which is total nostalgia for me, as when I was younger I had Sea Monkeys which are similar and I didn't actually realise they still sold them.
We were sent the Aqua Dragons starter set which included everything we need to get them growing and living.
What is in the aqua dragon box?
The box includes the aquarium, a little packet of eggs, a packet of food, a pipette to help with the oxygen in the tank, and a feeding spoon.
If you got the set with the LED lighting then you will need to put in 2 x AAA batteries( not included) to make them work.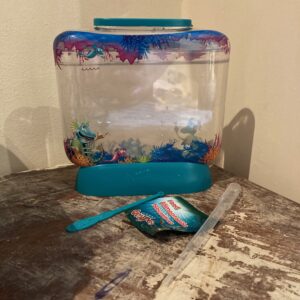 How To Hatch your Aqua Dragons
This is really simple all you need is 350ml-380ml of BOTTLED water which you then pour into the tank up to the wave fill line. Once that is filled make sure it is where you want to keep the tank (no cold spaces, no drafts) and then carefully pour in the packet of eggs.
NEXT leave them for 24-48 hours.
You need to start feeding them the day after set up and only use the small spoon that is included in the kit. Mine took 4-5 days to hatch but after 48 hours if you look with a magnifying glass you may be able to see them.
If the water goes murky from feeding them then leave it for 24 hours with no food and the water will get clearer and ready for some more food.
After a month you will have a fully grown Aqua Dragon Family that can grow up to 1 cm and in some cases they even have their own babies.
Did We Enjoy The Aqua Dragons?
We really enjoyed watching the Aqua dragons grow and I have to say it might of been more for me than the kids but we did all really enjoy it. It kept their attention for a few days & I did end up feeding them and looking after them but I expected that.
After 2 weeks we have around 20-30 swimming around but they are still small for now and look a little like I would expect nits too rather than dragons. It is a long process for kids to understand but I think it is good for them to get to grips with looking after a pet.
Where To Buy Aqua Dragons?
You can get them in most toy stores but also Amazon which is linked here:
---
DISCLAIMER: If marked with a ** then it is an affiliate link – if you purchase from this link I may receive a few pennies from the retailer. It doesn't increase the price you are paying.
DISCLAIMER: This item has been gifted to us but our opinions do not reflect on the products company, or the thoughts of any social media companies we have shared this review on.
We give our 100% honest opinions on the products we test and we have declared it is an AD and gifted as required by the ASA guidelines