Legoland Windsor: My Top 5 Tips
We recently went to legoland with 3 of our kids and considering the age range we were a little worried about how it would go.  We took Ava, Ethan and Ezra who are 11,10 and 2 and overall we had a fab day. These tips definitely made the day easier and would recommend to anyone taking young kids. 
Plan the day ahead via the app 
Plan where the kids want to go in advance. It sounds silly but the ride queues get long and some are more popular than others. We used the app to do this and it did save us a lot of trouble. Unfortunately two of the the rides the kids did want did break down so we didn't get to do them and two had long queues all day so it just didn't happen. We found that helping them manage expectations beforehand helped us avoid any major park meltdowns.
We went on a school way day so we had hoped it wouldn't be as busy. The maximum queues we experienced were 50 minutes which we know isn't too bad but with reduced park hours (10-5) it did mean we didn't get a lot of rides done.
On entry a member of staff approached us about a photo package for £20 which included 8 rides and unlimited downloads. We did pay for it but ended up only getting 3 photos due to ride queues and breakdowns so it wasn't worth it for us but we would still think about getting it next time.  You can buy this online in advance or see if you can find a member of staff on the day. I don't think this included the Santa grotto or any of the driving schools. 
Laser Raiders
LEGO® NINJAGO® The Ride
The Dragon
LEGO® City Deep Sea Adventure
Dragon's Apprentice
Pirate Falls
Fairy tale brook
And one more that I can't remember
Take snacks and refillable bottles
We found none of the kiosks for food were open and the ones that were didn't have any hot dogs for sale so it meant long queues at the bigger restaurants around lunch time. It also ate into the ride time as we ended up queuing for about 20 minutes for entry into the restaurant then 20 minutes to order our food and receive it plus then you have the eating time. 
Food was okay, a little bland and overpriced for what it was. In the pirates restaurant it was around £8-£13 for a burger, chips and drink.
We saw a few stands with an offer of a hot dog and a soft drink for £8.75 or hot dog only for £7.95 but the ones we tried weren't selling hot dogs, were sold out or they were closed. Staff weren't aware of what ones were open and when asked couldn't tell us the nearest place to get food.
We wish we had taken refillable water bottles with us as 3 soft drinks (2 capri sun pouches and a Coca Cola) in a gift shop cost us £7.
Water bottle refilling stations are located around the park but often not obvious usually hidden behind a kiosk.
They do offer a refillable cup but we thought it was overly expensive at £16 for one or £12 each if you brought two. They had refill stations all over the park but we still refused to pay £12-£16 for each of us. When I went in 2019 it was £10 for a refill cup and I thought that was quite well priced.
If you pre order it online then the prices work out as one vessel for 1 for £13, 2 for £11 each, 3-6 for £10 each and if you bring your vessel back on a future visit then they say you can "re-charge it" for just £6! 
According to their website "We have all of your favourites from 100% Premium Burgers, Pizza and Pasta, Chicken Burgers and Wraps, to a selection of sandwiches and salads. You can also find a wide range of sweet treats such as Fresh Doughnuts, Popcorn, Flavour Burst Ice Cream and Pick and Mix sweets." We couldn't see any doughnuts stalls and the one frozen Fanta kiosk we saw was shut. 
Pirates burger (20-30min wait)
City walk pizza and pasta (30mins -1hr wait time)
Farmers joe chicken (was closed)
The hungry troll (closed)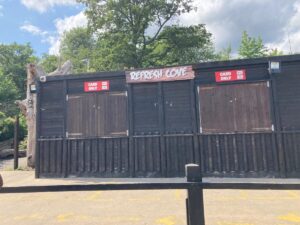 parking 
We didn't realise you had to pay parking until we arrived. On the day it is £10 at the park or you can go online and pay a discounted rate of £8. Either way it's got to paid but buying online was simple and cheaper so we did it that way. Just make you budget for it whatever way you are paying.
We did normal parking rather than priority and it made no difference in the time it took us to get out of the park and to be honest wasn't much difference in the distance either.
Grab a map 
The Wi-Fi is sketchy around the park so make sure you grab a couple of the paper maps before leaving the entry area. You'll be grateful for them when the Wi-Fi is down and you have no service. Also take a screenshot or photo of the show times if that's something that interests you as they aren't displayed everywhere around the park.
Birthdays and Pop Badges 
If you are celebrating someone's birthday then you grab a birthday badge at the main customer service and if you ask them they will add your name and age to the birthday screens.  These boards are located in the main area before the hill lift and in the heart lake city area by the show area. They get full quickly so you can email ahead or just ask on the day.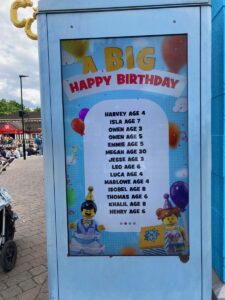 POP badges 
POP badges are the Legoland version of pin swapping at Disney. Each Pop is fun and unique and they can include your favourite LEGO® Minifigure, some glow in the dark and we haven't found these ones yet but some have scratch and sniff! POP Badges can be collected in different ways depending on the time of the year.
If you complete the QR code trail in the London area of Miniland then you can earn yourself one. Apparently they also can be extra gifts with certain purchases at selected stores, we haven't encountered this one but I've been told.
You can also earn them through POP Badge challenges during special events such as Halloween and Christmas.
If you check the LEGOLAND app on the day of your visit then you can see if there are any special missions to earn them.
Every staff member you meet at the Windsor site (unsure about the other locations) will also have a minimum of two POP badges on their lanyard and if you are polite and nice the will often swap with you. Ethan swapped one recently with a member of staff in the pirate's restaurant.
I'm sure there are loads more tips For Legoland that I could write about but other than the ones above I recommend:
sensible shoes,
make the most of the open hours
If your children are young either take a pushchair or hire one (around £10/£15)
enjoy yourself and take lots of photos
Measure your child's height
Check for planned closures of areas / rides