Geomag Glow & Glitter Sets [AD]
In our house, building is very popular, it doesn't matter what it is just as long as it can be built, knocked over and crashed into. Ethan and Ava are loving magnetic sets lately and amongst their age group it seems to be a really big fad at the moment. I have always loved the Geomag Sets but since the kids have gotten older we are finding them a brilliant tool. We have found Geomag to be good quality, long lasting and help aid their imaginative play no matter their age which works well as it is a long lasting toy. Toys that glow or have glitter in them are a huge winner in our house with Ethan and Ava so when the team at Geomag gifted us a Glitter Set and A Glow In The Dark set they couldn't wait to rip into them.
What is Included In The Geomag glow & Glitter Sets?
These 2 sets have slightly different contents but they are based around the same idea of spheres, rods and plastic bases. The size of the sets reflect on what you get but with the smaller Glow In The Dark Set you get 25-pieces which consists of 12 spheres, 12 magnetic rods and 1 plastic base. The Glitter Kit is larger at 60 pcs and it includes 28 spheres, 28 magnetic rods and 2 bases. The building bases definitely help but they aren't a requirement to be able to enjoy the kits. I personally really like the bases as they help make it stable and less likely to fall apart but the kids often build without them and have no issues.
This kit interacts really well with other Geomag kits – the only difference is, one of the kits glows in the dark and one is full of glitter and bright pink. We were gifted both kits including the Glitter Construction Set so we often mix and match the two kits when the kids want to make something together.
How Do You Store Geomag?
When it's time to clean up, this is where Geomag really impresses us as it can all just be popped into the boxes, and all you need to do is find storage for is the bases. For the bases we use a zip-top bag as it is a perfect size and no risk of anything falling out. A real big bonus point for us with this toy is the storage element as it means that the younger siblings aren't at risk of choking on the magnetic balls or chewing on the sticks.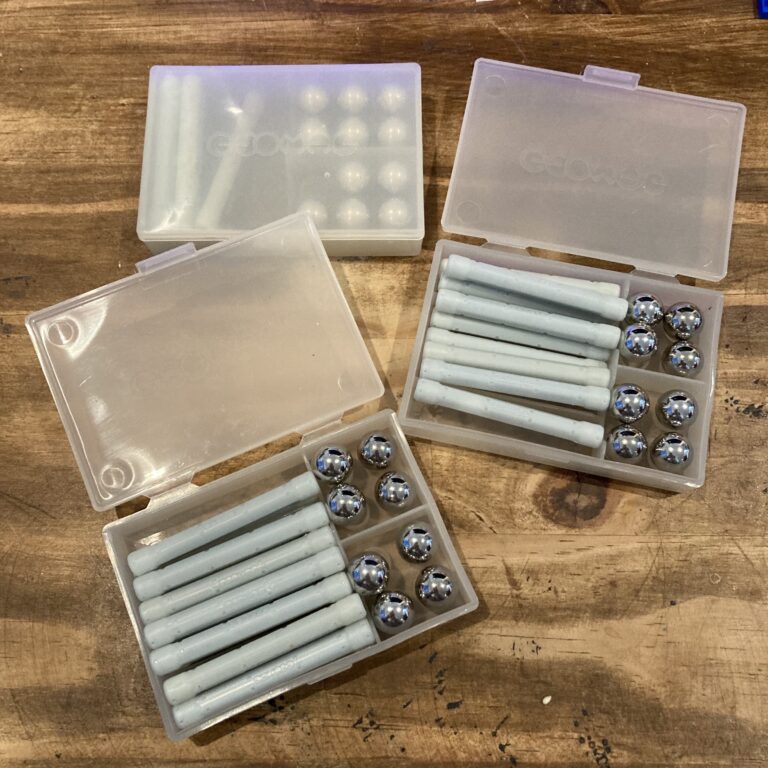 Where can We Buy The Geomag glow & Glitter Sets?
These kits are available in most toy stores and online retailers but the best price I have found is through the Entertainer.
Glitter construction kit – 60pcs
Magicube Magnetic Animals – 9pcs
---
DISCLAIMER: This item has been gifted to us but our opinions do not reflect on the products company, or the thoughts of any social media companies we have shared this review on.
We give our 100% honest opinions on the products we test and we have declared it is an AD and gifted as required by the ASA guidelines.
---