Geomag MagiCube Sets [AD]
Whilst at BlogOn we were gifted 2 sets of Magicube bricks which Ezra really enjoyed playing with when we were at BlogOn Kids earlier in the year. One of the sets is a maths building set and another is a words building set. They are obviously a little advance for Ezra at 18 months but it is a good idea to get him looking at letters and numbers from an early age to help him later on, plus he loves the magnetic bricks. These sets are from Geomag and they contain 10 coloured cubes and 45 clips. Both of the sets are made from 100% recycled plastic and are marketed as STEM kits.
What Are Magicubes?
Magicube sets are based on a magnetic design and this is why they work brilliantly with letter formation and sums. The cubes stick to each other from any side, and they help to improve motor skills and creativity, as I mentioned before Ezra loves them and has done since he was around a year old.All the sets are interchangeable with each other which means you can expand them with the plain brick sets or of course buy other magnetic letter / number sets.
Included in the set is a booklet to help get the most out of the Magicube Building Sets but you can of course build any shapes, formations, or buildings that your imagination can create. The sets are aimed at 3+ but when supervised the blocks (not the magnet) are good for younger children as they help coordination and hand strength.
It's such a simple concept, but it is what makes Magicube an innovative product. You can use the cubes to make any shape or buildings, you can even build bridges much to Ethan's delight. There are many types of Magicube to help kids with their learning.
The Maths Building Set helps with:
Understanding Numbers
Understanding Symbols
Building Frames
Building Sequences
Solution Building
Building Backwards
2D and 3D Building
The Word Building Set helps with:
Understanding Words
Understanding Sentences
Building Words and Sentences
Solution Building
Building Backwards
2D and 3D Building
Building Math Operations
It's perfect for visual and hands-on learning and I mentioned above it promotes STEM learning to even the youngest child (Ezra). The magnet inside the bricks are safely hidden with no way out so they don't cause any risk and the magnets used on the outside are large enough not to be a choking risk to a child of 3+ but under that age I would make sure they are supervised at all times.
The Building Sets are suitable for ages 3+ due to the smaller number clips. But you can buy other Magicube sets from ages 18 months+ and they are all interchangeable.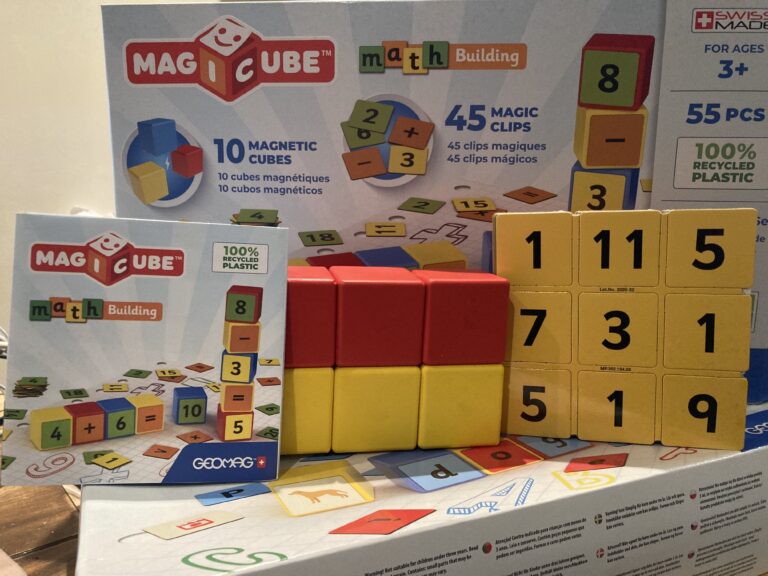 Where Can We Buy MagiCubes?
I have struggled to find these online but I have seen them in many toy stores. They are currently rebranding a lot of them to make them more environmentally friendly so I have asked them where they are currently stocking them and will update when I have an answer.
Currently I have found them online at Toys 'R' Us and Amazon.
Would We Recommend them?
Yes they are brilliant, all the kids love them, Ezra doesn't stop playing with them and they are ideal for us to take out when we go for a meal as they are hard wearing and can withstand a bit of rough play. We really want to try the Shapes range next as they look fab now Ezra is getting older.
---
DISCLAIMER: This item has been gifted to us but our opinions do not reflect on the products company, or the thoughts of any social media companies we have shared this review on.
We give our 100% honest opinions on the products we test and we have declared it is an AD and gifted as required by the ASA guidelines.
---