Do you remember Stickle Bricks from your childhood? I know I certainly do and now I am so happy to pass my love of them onto Ezra! Stickle Bricks first launched in 1969 and have been a toybox favourite for decades – I remember playing with it at primary school and I am so glad they have come back around again. We have been gifted a Stickle Bricks Farm Set and to review and as soon as they arrived Ezra fell in love with them and he hasn't stopped playing with them since.
What Are Stickle Bricks?
Stickle Bricks come in various sets and they are suitable from 18 months + and even though the box says the upper age of 5, the older kids have loved them just as much as Ezra if not more. The Farm Set (which has an RRP of £20) has 19 easy t assemble bricks with a selection of special farm-themed bricks. It contains animal themed pieces (pig, chicken, cow), a farmer which is made up of 3 pieces and a tractor with moving wheels that you construct yourself!
What did we like about it?
I really enjoyed re-discovering a toy which I remember so well from my childhood, the older kids loved playing with it too. The whole set brought back memories for them as well as me which was lovely to see. I think the simplicity of the kit is brilliant as the kids got hours of building it and playing with it even though it is basic and a starter kit.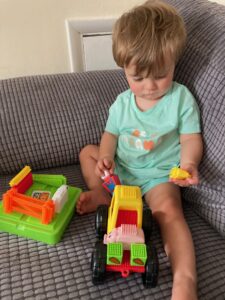 The whole set is really colourful and sturdy which makes it perfect for Ezra who only 15 months but he could work out how to use the kit, and interact with it. This is brilliant as often sets have smaller parts which are dangerous for him.
Ethan and Ava often play with lego so were surprised there was no instructions but in all honesty it is quite self explanatory. As a parent I really liked the storage idea which the Farm Set came in. It's so useful to be able to keep the Stickle Bricks all in one place so that they won't end up getting lost amongst the other toys and I know this sounds silly but it really is useful when toys can be stored in what they came in.
Where Can we purchase them?
This set is available from The Entertainer and as Ezra loved them so much we are getting him the Builder Set for Christmas so he can expand his building and be able to grow with the bricks and the sets.
---
DISCLAIMER: This item has been gifted to us but our opinions do not reflect on the products company, or the thoughts of any social media companies we have shared this review on.
We give our 100% honest opinions on the products we test and we have declared it is an AD and gifted as required by the ASA guidelines.
---