Harry Potter Knight Bus 3D Puzzle [AD]
If you didn't know already I am a huge Harry Potter fan and when I went to the Toy Fair I got a Mini Mini Ford Anglia 3D puzzle from CoiledSpring Games and made it on my youtube channel. These puzzles are made by Wrebbit3D and I can't link my one as it is a show special but this is a 130 piece Ford Anglia which is larger than mine but same puzzle. The car was amazing to build as it didn't take too long and it looks brilliant on my shelf. It was my first experience of a 3D puzzle and I think the foam backing really helped as it isn't too rigid and it is moveable if you make a mistake without ruining the pieces.
A month or so ago I was emailed by CoiledSpring and asked if I wanted to review the Knight Bus 3D Mini Puzzle too and of course I said Yes because DUH it's Harry Potter. I thought that it wouldn't take too long as I was quite cocky about it but I soon realised the errors of my way when I opened the box.
This is a larger puzzle at 130 pieces than the previous one I did at around 25 pieces. I have to admit I didn't quite realise how much of a challenge it would be as it is all purple and not much helps you work out the different sides and areas. The easiest part was the bottom as it was a completely different pattern to the rest of the bus and this made it stand out when choosing parts. I didn't realise that there was parts in there that we didn't need at all and they were just parts from when it was made so for a while I thought there were double the amount of pieces than what we actually needed.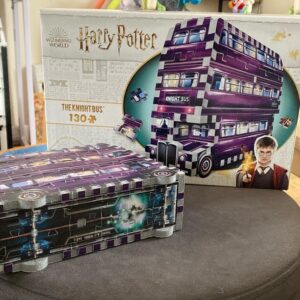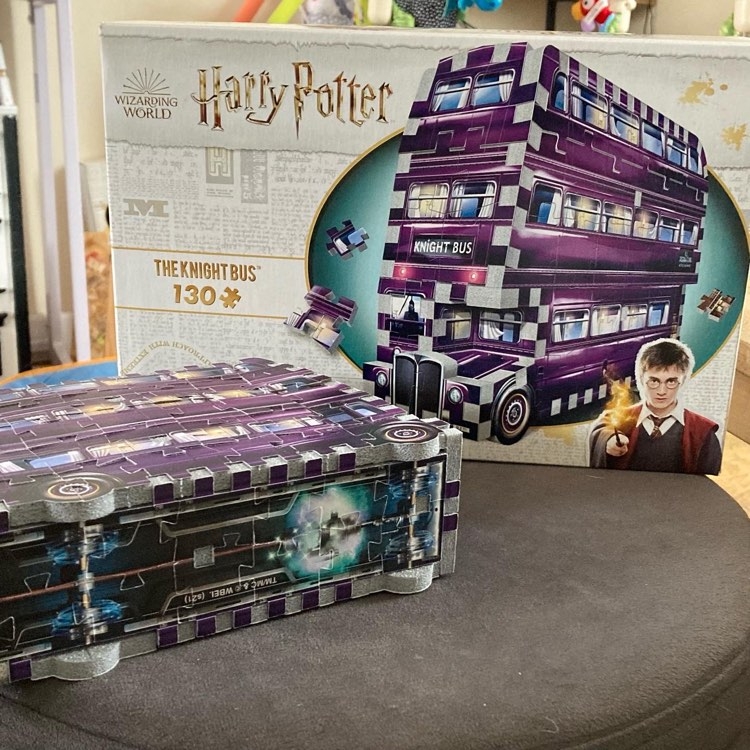 It took me a good 2-3 hours to build this and that is because I am an idiot basically. I used the Wrebbit3D Youtube Video to help me in the end as I was getting all sorts of confused and once I really started to concentrate I got a lot further a lot quicker. I did attempt to film it for my YT channel but when I realised I was in over my head I soon realised that the video would be WAY too long and I just filmed the "good bits".
It is a 10/10 for me every time even if it took me WAY longer than it should of done and it looks awesome on my shelves with my other HP items. Look out for my YT video and drop a comment with which Wrebbit 3D Puzzle is your favourite.