Small Businesses Gift Guide 2019
If you haven't read any of my gift guides before then let me do a quick summary. These are small businesses I follow myself and the products I'm mentioning aren't gifted! I have picked 5 independent companies and linked them all in their own little paragraphs.
Holly's Lollies
If you want a personal touch and your recipient has a sweet tooth then Holly's Lollies is for you!
One of my favourite products is the Raspberry Prosecco Humbugs. I love these as they are made with real Prosecco and the fruity raspberry flavours aren't affected by the alcohol.
Holly also stocks drink stirrers and giant lollipops in such a range of flavours and each one tastes amazing!
The Raspberry Prosecco Humbugs are £6.50 plus postage. She is currently offering free delivery on orders over £20.00.
Perfect for back to school images too.
Nutmeg and Arlo
If your mums is a little quirky or a little bit geeky like me then Nutmeg and Arlo is the store for you!
From pins to phone cases to washi tape, there is literally so many choices and I want them all!!!
Prices vary depending on the style and the item and postage is free again if your order is over £20.00
If your mum loves Harry Potter like me then go and check this pin for £6.90.
Mutha Hood
I just can't do a gift guide without mentioning this fabulous lady and her items! Mutha Hood is a fabulous brand and her new ideas are just lush!
This is a slightly different colour scheme compared to the original but the slogan and the message behind it is still the same!If your mum is the strongest woman you know then she needs this item. It comes in T-shirt's, jumpers, pop sockets, bags – pretty much anything and everything.
The T-shirt featured is available in S – XL and is £24.00 and can be purchased here.
La Di Da Doodle
La Di Da Doodle is run by Chara from Pandering to boys and she is AMAZING at drawing as well as Chara'des. Each drawing is hand drawn and based on photos of your choice. Each drawing is unique and Chara puts looks of love and effort into each one. I hope to order one for our house for my birthday!!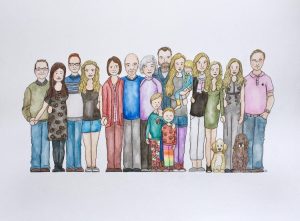 To order you message her through her Facebook page which is linked here. Prices may vary depending on size and people/animals/vehicles featured.
Once again not paid, not affiliated and all images belong to the small businesses & companies!
#SupportSmallBusinesses