The Fuzzies Game Review [AD]
We were first introduced to The Fuzzies at BlogOn 2022 and our friends over at Lollipop The Bear have also reviewed The Fuzzies so make sure you pop over there and give their review a read too. We were gifted our own The Fuzzies set after BlogOn and we have thoroughly tested it in order to review it.
If you have kids then you will have encountered Jenga and most people will agree that it is a brilliant game, and a staple in their home, however, there is one major flaw with it. Once the pieces are strewn across the floor, you have to rebuild it again and nobody can usually be bothered by this point of the game and it just gets thrown back in the box. The creators behind The Fuzzies are trying to solve this problem and make the game less of a fuss.
Instead of the traditional long style blocks, The Fuzzies has lots of colourful pompoms that stick together and create a tower. In traditional games (like Jenga) the blocks are solid, and can be clunky and troublesome but what I really love about the pompoms in The Fuzzies is that they are soft, can't hurt you if they are dropped and I really like the overall look of the game as whole. It looks inviting, and the setup takes just seconds.
How Do I Set Up The Fuzzies?
You put all the pompoms in the cup provided, jam them down as hard as you can, put on the black lid and then flip the cup and remove the cup. If it is all balanced correctly then you're ready to play.
All players need to be sitting down to play, this is part of the rules. You can turn the base but you cannot get out of your seats.
We really liked playing The Fuzzies as instead of having free reign over which pompom to move, you're instead drawing a card that tells you the colour ball you need to grab. IF you fail your assignment, you will receive a punishment for your future turn. These punishments can include using your non-dominant hand, or having to look like an elephant whilst moving the pom poms. These punishments are designed to make your go harder and make you more likely to screw up – so make sure you don't get served one.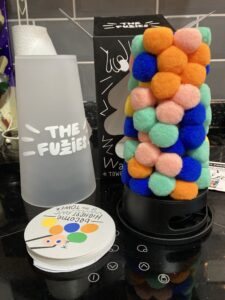 How Does The Fuzzies End?
The game continues with players taking turns until 10 or more balls fall from the tower or the tower crumbles completely.
If the Fuzzies Fall: You still have to place your chosen Fuzzie but then you have to draw cards equal to the number of fuzzies that fell – up to 3- and flip the cards to the challenge side and see your fate. If there are duplicates keeping drawing until you have different cards. On your next turn you have to complete all your challenges whilst removing a fuzzy friend, even if you have more than 1 card. after you have done your challenges you can discard your cards. You only have to do them once.
Sometimes The Fuzzies doesn't reach the same dramatic ending as Jenga but often it will. If it ends with someone knocking it over then there will be pompoms scattering across the table like candy from a pinata. You might become the unfortunate player who gets stuck in an infinite loop of trying to put balls back on top, while more fall off so make sure you really think about where you are placing them.
When The Fuzzies tower does collapse it is a lot more muted and doesn't include the big bangs and thuds which I actually prefer as it makes it feels more relaxed and less tense. I am sure many won't like this and will complain it mutes the idea of the game but as someone who hates loud noises, and anxious tense situations it allows me to actually enjoy playing the game without the worry.
As a family we love this game and it has become something we find ourselves reaching for when we want a game in the evenings. It works especially well when the baby is sleeping as there is no chance of us waking him up with loud crashes.
Where can we buy the Fuzzies?
I have a link for Amazon** but I have seen them in WHSmiths, Oliver Bonas, Forbidden Planet and many other stores too.
The Packaging Includes:
95 x Fuzzies
30 x circular cards
1 x circular rulebook
plastic container with dual-purpose lid/platform
tweezers
---
**DISCLAIMER: This is an affiliate link – if you purchase from this link I may receive a few pennies from Amazon. It doesn't increase the price you are paying.
DISCLAIMER: This item has been gifted to us but our opinions do not reflect on the products company, or the thoughts of any social media companies we have shared this review on.
We give our 100% honest opinions on the products we test and we have declared it is an AD and gifted as required by the ASA guidelines
---