WUKA Period Pants Review [AD]
My experience of Period Underwear has been with WUKA Ultimate™ Lace in the High Waist style and It took me a really long time to be convinced about period pants and I was still very unsure when I first wore them but now I am a convert. After just one day of wearing them versus a pad I am convinced this is the way forward and I need to buy more. I'm gonna start this post by covering a few questions that I had when I started this journey and then I will give my review of my WUKA period pants.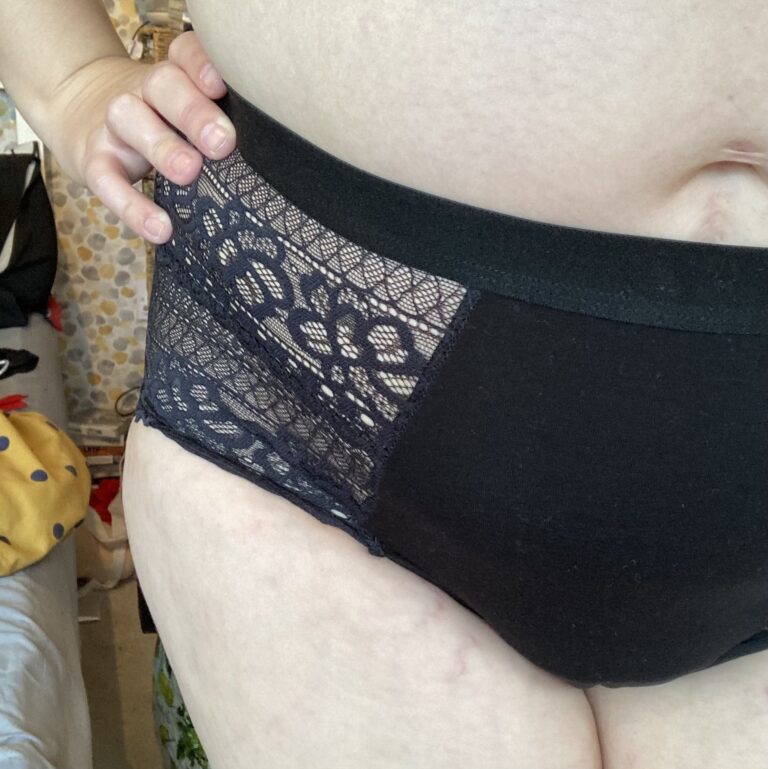 Frequently Asked Questions:
What Do They Feel Like? / Do they feel wet?
I would say no. They don't have that same nappy feel and just feel like "normal" underwear with a slightly more padded gusset. They're softer than I expected as well so that was a pleasant surprise, I expected them to feel a little bit like the suck in control underwear but I was totally wrong.
No they don't. They protected me front to back and I often forgot I was wearing them. When pulling them back up after going to the loo there was a very brief cold feeling but other than that you don't notice them. I did my normal day to day in them and when I went back to pads the next day I hated it and that settled it that I needed to buy more pairs to get me through my whole period.
---
How long can you Them for? / How often do you need to change?
This depends on the capacity of the pants you're wearing. WUKA have their separated between light, medium (2-3 tampons) and heavy flow (4 tampons). The pair I was wearing was the WUKA Ultimate™ Lace (High Waist) in Heavy Flow so they recommend 8 hours. I found they lasted me from Morning to the evening when I had a shower but I would wear a fresh pair for bed and then change again in the morning like you would a pad.
---
Do you get paranoid there's a smell?
This is always one of my biggest worries when I have my period but I have to say there is more smell in flowery smelling sanitary pads! I found there was no smell when using the period pants and I didn't get that horrible rubbing, uncomfortable feeling on the inside of my thighs.
---
Do period pants work for heavy periods? / How many pairs of period pants do you need?
Absolutely! You know your periods best so if you are worried then look into using a cup as well but I didn't have to change them until bedtime during my heaviest day.
This is hard for me to say as everyone's period is different but on the WUKA website it says the following: The amount of period pants you may need depends on how heavy your flow is and how long your periods tend to last. We're all different. Some people have light periods and some of us experience much heavier flows! Some of us bleed for about 3-4 days and others bleed for 7-10 days.
We tend to find that 5-7 pairs is best for most of our customers, considering they last up to 2 years. But, of course, you know your flow best! WUKA offers deals for cycle sets with 3 and 5 pairs of period pants.
---
How to wash period pants?
When you change your period pants, rinse them in cold water till they run clear. Then chuck them in the washing machine (no fabric softener) on a 30 – 40℃ wash. The seamless and organic cotton WUKA pants should be washed on cold. I used my standard washing powder but with no fabric conditioner and then air dried them. Where it is winter they do take a few days to dry due to the thicker gusset but don't be tempted to tumble dry them.
---
How do you know the sizing is right? / Are WUKA pants leakproof?
I'm a UK 16 and I wear XL in WUKA which is comfortable with room to eat, drink and breathe so I wouldn't change it. It really does depend what style you wear so use their size guide on their website – WUKA Size Guide.
Well, all brands say they're leakproof and I haven't experienced any different so far. I have walked in them, sat in them, chased after Ezra in them and gone food shopping in them. I don't do sports but if I did then I would venture for their sport collection.
---
Are They just for adults?
They have catered for teenagers as well as adults and postpartum ones which I would love to try when we have another little one. If you don't quite want to venture to pants just yet they do sell reusable period pads too.
How Do Period Pants Work?
It's super simple. You wear them just like normal underwear. They can be worn for up to 8-12 hours* (*depending on your flow) and you just get on with your day as normal and you don't have to worry about changing your pad/tampon/cup. Once it's time to change the pants, you just give them a rinse until the water runs clear and then put them in the washing machine. Use your normal washing powder but do not use fabric conditioner as this can affect the absorbency.
They are No bad smells, no leaks, no discomfort.
WUKA's period pants are a great alternative to sanitary towels, menstrual cups and tampons if those options don't work for you. They also work well with cups and tampons if you just want a form of extra protection.
My Favourite Points Of My WUKA Pants: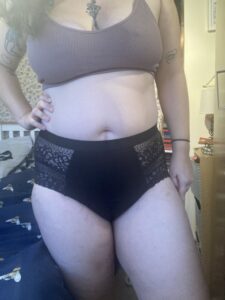 The pants have the model and flow printed on the inside so you don't have to remember it
The size range is diverse and covers all sizes and body shapes
Buying in a pack works out cheaper – they do have offers too so check out what works best
Free shipping on all UK orders
They offer a 100% Satisfaction Guarantee.
You can try for 40 days and exchange or refund your first pair if you aren't 100% satisfied
Every pair prevents 200 disposable pads and tampons from polluting our oceans.
Period pants are the perfect replacement for pads and tampons. You just wear, wash (add a wash bag to your basket if you'll be out and about), and reuse. Long term, you will be saving money and not having to worry if you have pads or tampons in the house when your period arrives.
Thank you to WUKA for sending us a pair of period pants and letting us write a honest and truthful review on your products.
---
DISCLAIMER: This item has been gifted to us but our opinions do not reflect on the products company, or the thoughts of any social media companies we have shared this review on.
We give our 100% honest opinions on the products we test and we have declared it is an AD and gifted as required by the ASA guidelines.
---
Latest WUKA Discounts & Offers
This Black Friday** WUKA are launching their campaign to support Choose Love as a part of our Ethical Black Friday, where they will give 1% of all sales through WUKA to their charity partner. This fund will provide period pants to all in need here in the UK and across the border.
Choose Love does whatever it takes to provide refugees and displaced people with everything from lifesaving search and rescue boats to food and legal advice. They elevate the voices and visibility of refugees and galvanise public support for agile community organisations providing vital support to refugees along migration routes in Europe, The Middle East and at the US-Mexico border.
They work in 24 countries and in just seven years, they have reached 1.8 million refugees and raised tens of millions for over 300 organisations globally. They are powered by a vision of a world that chooses love and justice every day.
As the cost of living in the UK continues to rise, the team at WUKA would like to support our loyal customers as well as newcomers by offering up to 30% off our period pants. We founded WUKA because we believe that everyone has the right to affordable, comfortable and sustainable period care. But with prices spiking, many people are being left unable to afford the products they need.
(The campaign begins on 17th to 30th of November 2022)