Spark Moments Water Flosser Review [AD]
We have been gifted the Spark Moments Water Flosser for us to try and see how we rate it against traditional flossing. If you haven't heard of it before then water flossing is currently being sold as a good alternative to floss or interdental brushes. It is a big trending topic across TikTok currently with lots of influencers being gifted them by a certain big brand.
A water flosser, also known as an oral irrigator, is a handheld oral care device that directs a stream of water between your teeth and gums, removing food debris, plaque and bacteria. Combined with daily flossing, a water flosser enhances your daily oral care routine.
I am not a dentist fan so I will try most things to keep me from having to go in their chair but I will admit there is nothing quite like the feeling after you've been to the dental hygienist and your teeth feel squeaky clean. My dentist often moans at me (rightfully) that I don't floss enough and that is because I find floss leaves my gums feeling tender and that puts me off massively. I am not one for pain and especially with my teeth. As my teeth are slightly overlapped, I also find that floss can get stuck and then it causes more pain when I am trying to remove it.
The Spark Cordless Water Flosser has 4 jet tips for oral use and 1 for self-cleaning. One of them is a 5 direction jet tip which is apparently unique to this set. The powerful central water jet cleans food debris, and the soft peripheral water jet cleans the gum line and is safe on damaged gums.
The Spark has Self Cleaning Technology which is different from traditional water flossers on the market. It claims that it applies the unique principle of water cycle, and that 90 seconds completely cleans the interior. Running this cycle helps keep the inside of the flosser from getting blocked with limescale and stops it smelling with the water. This claims to provides protection for oral health and is a big selling point of the product.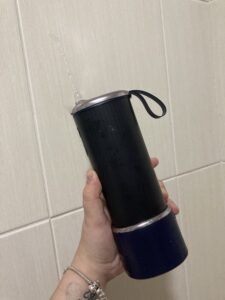 Features Of The Sharp Cordless
Self Cleaning Technology: Different from traditional water flossers, our water flosser apply the unique principle of water cycle, 90 seconds completely cleans the interior. It keeps the inside of the flosser from getting stinky with limescale and provides protection for oral health
Five Direction Jet Design: The water flosser has 4 jet tips for oral use and 1 for self-cleaning. One of them is very special (5 direction jet tip). It can divide the liquid into 5 streams, the powerful central water jet cleans food debris, and the soft peripheral water jet cleans the gum line and damaged gums
4 Cleaning Modes: The portable water flosser has 4 cleaning modes – Pulse(massage gums), soft(sensitive teeth), powerful(clean teeth), DIY(set water pressure). The memory function help maintain your preferred mode for next use. It specially designs press shot mode for novices to avoid clutter. Note: If the working time exceeds 90s, it will automatically shut down
Detachable Lid Design: Just turn the lid 45° to the left to remove it, the unique design makes it easier to add water and clean the inside of the flosser. The dental flosser is also equipped with a rope, which can be carried by hand or hung on the wall
Portable Oral Irrigator: Built-in 2000mAh battery. It takes about 4 hours to fully charge, and then 20 days of continuous use (once in the morning and once in the evening). USB charging, power plug, power bank or car charger are also suitable. It is very suitable for travel and protects your oral health
this information was copied from Amazon and it was correct at the time of publishing.
How I Found Using the Spark Water Flosser
I have to admit, this isn't a dignified process and that you will look ridiculous and dribble a lot when using it. You're supposed to keep your lips slightly parted while you use it to allow the water to drain but I found my mouth had to be open quite wide otherwise it felt overwhelming. It is very hard to cope with the amount of water in your mouth/throat at first until you get used to it somewhat. You know what happens when you drink water after you are recovering from dental anaesthetic, it is like that but every time you use it.
The product is quite small when it doesn't have the attachments at around 18cm so it is smaller than other brands and that does make it convenient for travel too. I found charging it easy and straightforward too as long as you have a USB plug for it as it only comes with the cable.
A full tank of water has lasted me a couple of cleans, each time I refill it but that is because I tend to do it in short bursts as I am worried about my gums and I have the worst direction so often get myself in the face by accident.
Verdict
I do find the angle can be a bit awkward sometimes, since it is recommended that you keep the unit upright so it can draw water from the tank, while also keeping the tip at 90° to the gumline. I have found if you divert from this slightly it doesn't make a huge difference in the long run.
My teeth have felt really clean since I have been using this at brushing times and it was a lot better at getting food out from between my teeth than traditional floss. I tried the different types of tip, and I didn't notice a difference but the different settings did confuse me so I have stuck with what I found worked best.
This item does exactly what it says on the box and even though it is suitable for travel I won't be taking it as it is just another item to try and squeeze in my wash bag.
If you struggle with floss or interdental brushes, I would recommend Spark Moments Water Flosser as an alternative. It's easy to use and does the job well, it also stops the discomfort of when the floss gets caught between your teeth. I would imagine it could be an effective way of cleaning braces too but I have no way of testing this.
Where To Buy The Spark Water Flosser