Science Mad Crystal Growing Kit Review [AD]
When it comes to buying toys, the list is endless, especially when you get to Ethan and Ava's age category so I wanted to road test this kit to make sure it is worth the price tag. We have been gifted a Science Mad Crystal Growing Kit which is designed to help children learn and discover about growing and cultivating their own crystals. The kit contains everything the children will need to grow different colours and types of crystal. The detailed instruction booklet contains 17 different experiments and with each experiment it explains how crystals are formed and what happens through all of the steps.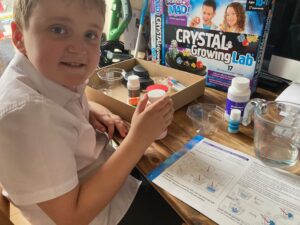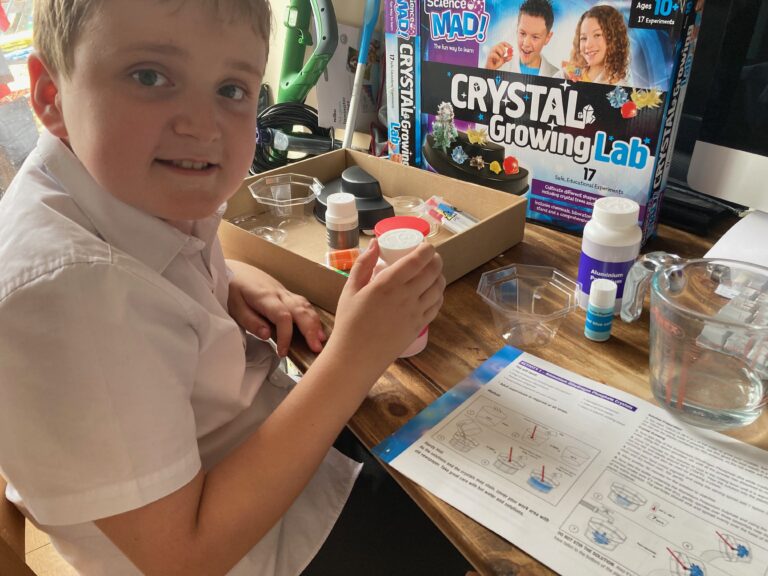 Toy companies are very good at labelling the age of the intended user and in this instant it is 10 years+ so Ava is the perfect age and Ethan is around 3 months short of being the right age. It's important to follow the age limit when it comes to science kits as there are often complex instructions and possibly dangerous chemicals. The next thing to think about is if the toy will last the child or if it will be a one time only kit. When buying Science kits it's really important to consider price as the lower priced kits won't have as many experiments and can sometimes be over priced.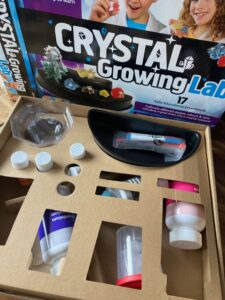 The Science Mad Crystal Growing Kit is brilliantly priced at £19.99 from Smyths Toys, Ethan has recently shown a love for science kits so this is his favourite activity to do after school at the minute. His favourite experiment to do was the "Short Fringed Crystal Tree" and my favourite was the "Crystal Rainbow" as it reminded me of when I was little and I used to get a similar Fluffy Tree kit for Christmas.
We are currently waiting for the "Ammonium Dihydrogen Phosphate Crystals" activity to develop over the last week. It is the first activity in the booklet and I have to admit the instructions for this one were a little confusing as the picture instructions didn't match the written instructions. We are unsure if we have done it correctly as we followed the images as that is what we started doing originally but we will see if it works in a weeks time.
What The Science Mad Crystal Growing Kit Contains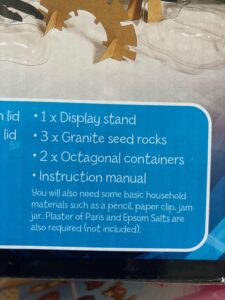 "Everything" needed to cultivate and grow your own crystals
a Plastic display stand
4 x Pre Cut paper Shapes
1 x A4 Sheet of Kraft paper
3 X Water-based markers
4 x Blister Moulds
5 x food colouring pigments (These will stain)
Measuring cups
measuring spoons
dropper
tweezers
petri dishes with lids
thread
3 x granite seed rocks
2 x octagonal containers
instruction manual
Cardboard packaging
Batteries Not Required / Suitable for ages 10 +
The Kit Does NOT Include The Following:
A Pack Of Plaster Of Paris
A Bag Of Epsom Salts
A Pencil
Paper Clips
Jam Jars
A Bowl (it will get messy with chemicals so be prepared to throw it away)
What We Loved About The Kit
Ethan really liked the photos with each of the experiments as he doesn't know what all the crystals are called so the photos helped him engage with it and understand the final goal.
The measuring system (once we got our head around it) was accessible for him to be able to do himself and meant he could do it rather than ask for help. He prefers when he can do things himself as at 9/10 he doesn't want to have keep asking us for help scooping items and mixing.
The items in the kit are all in sealed containers so it is less likely to make a mess as you have to get an adult to open them (child lock) – unless you are me and stain your face blue as it is on your hands so be careful. 99% of the kit is child friendly but unless it is given to someone of the age 13+ I would recommend supervising and Nick and I found it interesting to do so this is a big plus point for us.
What Could Be Improved
We do really like Science Mad Crystal Growing Kit and Ethan has been really happy with it but there are some improvements that we thought of. The kit tells us it includes everything and then when you come to do the experiments you find out it doesn't which is frustrating. It eliminates quite a few of the experiments that you can do straight away unless you have them randomly laying around at home. If you more organised than us then you will have these items at home :
a pencil
paper clips
a jam jar
However the other two items that are needed which is Plaster of Paris and a bag of Epsom Salts will require a trip to Hobbycraft or Home Bargains if you don't have at home.
The instructions as I mentioned above were different to the pictures which is not only confusing but worrying as you aren't sure if you have done it correctly or not which could lead to a child being really disappointed. Annoyily we didn't realise this until we were nearly finished otherwise we would of made sure we followed one or the other not a mixture of them both.
I would recommend rubber gloves as the food colouring is a nightmare to scrub off. Everyone might want to wear old clothes or an apron too as the colouring wont come out no matter what you do!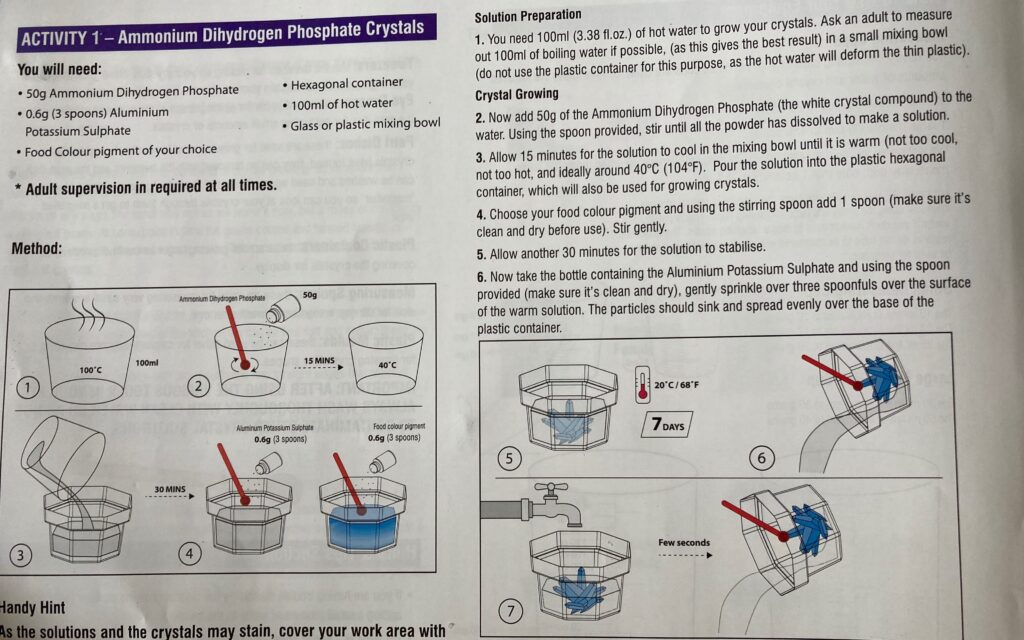 Would We Recommend This Kit?
Ethan has had a good time making the crystals out of this kit and following the instruction manual with some adult supervision. Nick has done a lot of them with him and despite some frustrations with the instructions they have had a good time seeing the science happen and getting a result.
I would buy this kit if it is found for around £20 in toy stores but I probably wouldn't pay more due to having to pay around £5 for the plaster of paris and £1-£3 for the epsom salts on top of the kit. I don't think it would cost them an awful lot extra to include a small sachet of each of these so the activity can at least be done once before committing to a bigger bag of them both.
Ethan said he would get 100% get this kit for a friend's Birthday or Christmas present as long as they were his age or older as it isn't suitable for any younger than 9/10.
Where Can We Buy It?
Science Mad! collection is available now from Smyths Toy Store right now including the Science Mad! Night Vision Goggles, the Science Mad! Digital Metal Detector, the Science Mad! Rock Tumbler, the Science Mad! Light Up Globe, the Science Mad! 5-in-1 Weather Station and the Science Mad! 30mm Telescope.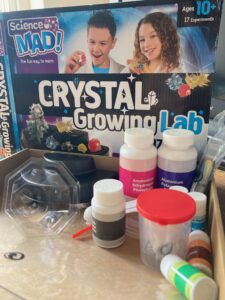 COMPETITION TIME
There is a competition to WIN your very own Crystal Growing Lab over on my Instagram Page from the 03/10/2022 until 09/10/22 so go over and follow the instructions to enter! It is now CLOSED – see our instagram for the winner.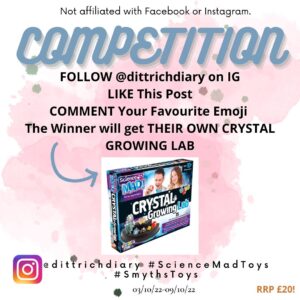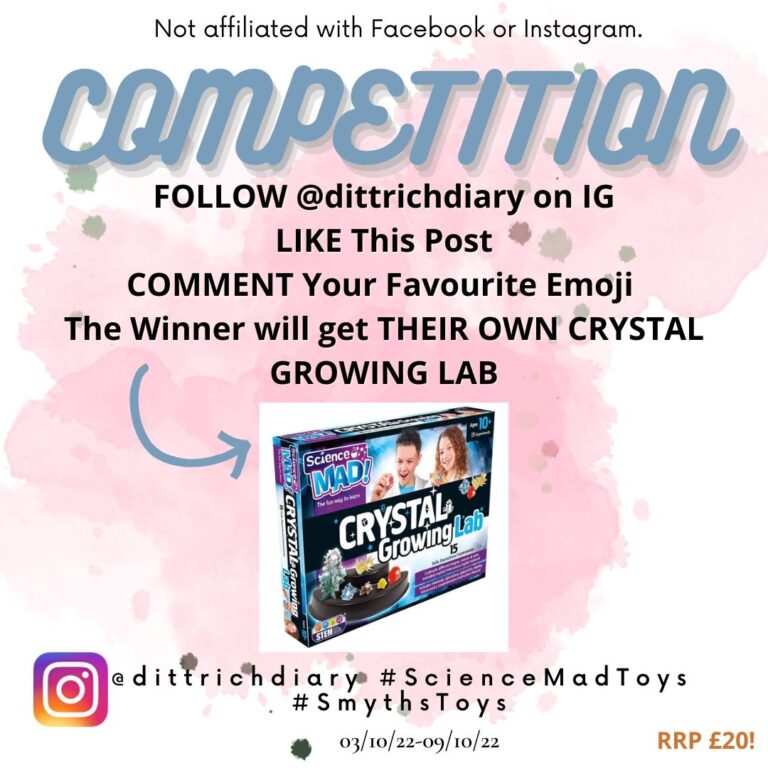 ---
DISCLAIMER: This item has been gifted to us but our opinions do not reflect on the products company, or the thoughts of any social media companies we have shared this review on.
We give our 100% honest opinions on the products we test and we have declared it is an AD and gifted as required by the ASA guidelines.
---
Related Posts: