My Must Eat Places In Rome, Italy.
I thought I would do a roundup of where you must eat in Rome and what I suggest you have to eat as it was just so good. I had no clue when I arrived and I found it a little bit awkward when picking restaurants as I was dining alone but I also didn't want to spend more than 20 Euros per dinnertime meal so these are my top 5. They are brilliant for solo diners or for couples, bigger groups etc. If you have any must eat food places then comment below and let me know.
My Top 5 Must Eat Places in Central Rome:
This restaurant is opposite Hotel Touring which is where I was staying. The staff speak minimal English but enough to get by. They have a happy hour too on a selection of alcohol and the restaurant is always packed for it. It was well priced across the menu and the cocktail list was amazing. I like to pick places that locals eat at and not just tourists. The restaurant was packed for a Tuesday night and it was full of a lot of locals. The wait for a table was around 15 minutes but as I was eating alone I got one straight away.
I chose the Prosciutto pizza as it sounded so good. I chose to go with a medium beer and the total came to €16. I did some research about places to eat and found that it was fairly priced. I ended up taking half of the pizza to my hotel room to finish as it was SO good!!
2. Hostaria Trevi
This restaurant is literally a stone throw from the fountain. It's got about 8 tables in there and is extremely cosy. The owner of the restaurant was lovely and helped me choose what to have. The staff speak English but also speak in Italian.
I chose a Carbonara and a lemon beer and it came to around €12. It was delicious but a tad too much parmesan for me! It was super filling and I couldn't finish it all!
I found this restaurant really good value for money and I wish I could of returned but I didn't have enough meals!
The pizza looked amazing and was very popular choice with other diners!
3. Osteria Allegro Pachino – Must Eat Here!!
I was recommended this place by a colleague at work and she told me it was the best Calzone.
Once I found it I had to wait for a table as it was so busy but dining for one works in my advantage at this point. I was told to order the meat calzone without tomato and I thought I would add chips too because why not.
The calzone was €9 plus €5 for a beer so it was around the standard cost of €15 for a meal. It is totally worth it though, the mozzarella in the calzone is just AMAZING.
4. Caffe Roma Gelateria
I couldn't visit Italy without eating Gelato and I made it my duty to try lots of different places. I found one of the best places and it's literally right next to the fountain.
For two scoops in a waffle cone it is meant to be €5.20 but the owner only charged me only €5 – I think that is because I paid in cash. Cash was very welcome in most places and there was quote a few cash points and exchanges around if you run out. I tried strawberry, banana, raspberry, nutty, melon and peach. I would highly recommended the raspberry and the peach, they were mouth watering and I had it in a waffle cone without the chocolate edging. There is no food next to the fountain so be careful where you end up eating it or you will get shouted at much like I did.
This one is a
MUST EAT

at least twice.
5. Bar Trevi – Fontana Di Trevi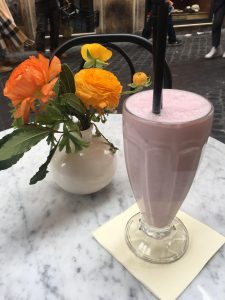 I stopped here for a drink on my way back from The Vatican City and It didn't disappoint at all. It was a cute little spot to people watch and the perfect distance from the Fountain area to the Vatican. They didn't mind me not ordering food and just getting a drink and weren't too pushy for me to leave once I paid. The food looked and smelt amazing and full of colours but I decided to just have a strawberry milkshake. It was €5 for a huge milkshake that was made fresh and it had real strawberry chunks in it. I'm not sure if it was made with ice cream or milk but either way I would drink it again.
Next time I will get a cake too as they looked delicious.