Reviewing 9-12 Yrs Nosy Crow Books [AD]
I have always been an avid reader and I am lucky that my stepdaughter & Ethan both agree with this too! As they have gotten older they have changed their taste in books so much, I was always a fan of A Series of Unfortunate Events and Harry Potter but there is such a big range now a-days that it is overwhelming. When the kids got GIFTED these books from Nosy Crow, they quickly started loving them and they both devoured them in days.
Ethans favourite out of the three was 'A beginners guide to ruling the galaxy.' by David Solomon and Ava's was S.T.E.A.L.T.H by Jason Rohan and she said she enjoyed 'Looking For Emily' by Fiona Longmur but it wasn't her favourite.
I will give you a bit of background about the books and their topics and highlight any possible trigger points.
A hugely gripping, fast-paced mystery adventure, with brilliant twists and turns. When twelve-year-old Lily moves to the sleepy seaside town of Edge, she's sure that nothing exciting is ever going to happen to her again. But when she stumbles upon a secret museum hidden in the middle of town, she realises that there might be more to her new home than meets the eye.
The Museum of Emily is filled with the belongings of one seemingly ordinary girl – a girl who, many years ago, disappeared from the town without a trace. With the help of her new friends Sam and Jay, Lily is determined to solve the mystery and find out who Emily was, why she disappeared and who has created the strange, hidden museum.
Possible Triggers: Moving house, Missing People, Friendships
A Beginner's Guide to Ruling the Galaxy By David Solomons
Gavin's got a new neighbour and she's really annoying. Niki follows him everywhere, bosses him about, and doesn't care that her parents will obliterate Earth with their galactic warships if she doesn't stop running away from them. Can Niki and Gavin sort out the alien despots (aka Mum and Dad) and save the planet? Possibly. But will they become friends? Maybe.
This is a new story from the author of My Brother Is a Superhero, and it is aimed at fans of David Baddiel and David Walliams.
Possible Triggers: Friendships, World Ending, Aliens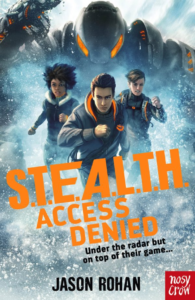 This is part of the STEALTH Book series and if you haven't read them before then this is a brief background to them. Arun, Donna and Sam are ordinary school kids with an extraordinary secret. They are S.T.E.A.L.T.H., a crack team of agents in charge of the most cutting-edge piece of tech the world doesn't know exists: MANDROID. Always flying under the radar, they solve crimes, prevent disasters and rescue the innocent – and they STILL have to get their homework in on time!
When his dad disappears, Arun Lal is amazed to discover that he was secretly working on a classified project and has been kidnapped by people intent on stealing it. Along with his best friend Sam and Donna, Arun is plunged into a race to rescue his father and find his creation before the thieves can turn it into a destructive global weapon. Perfect for readers aged 9+ and fans of Alex Rider, CHERUB and Mission: Impossible.
Possible Triggers: Friendships, World Ending, Parent Leaving, Kidnapping, Global Weapons.
I hope your children love these books as much as mine did and you can buy them direct from Nosy Crow or from Amazon now.