Ethan and Ava have been sent one of the new Pop It Slime fidget toys from Canal Toys and Smyths Toy Store.
They are brilliant as you get to Push, Pop, and Squish the slime-filled fidget! This is not a typical pop-it as it has extra bright slime-filled bubbles! When you press the bubbles, you get to move the slime around into the other bubbles. It is SO satisfying! You can forget your worries for a while and relax with this brilliant fidget toy and if you are into it then it works well with ASMR too!

I hate slime but with this toy the slime stays contained inside the bubbles on this fun, no-mess fidget. It is perfect for storing in your locker, backpack, the car, or for popping on the go!
Each of the fidget pop slime toys comes in bright glittery colours and different designs. As there are several styles available within this assortment, I would suggest getting them in store as unfortunately it is not possible to request which one you would prefer when ordering online.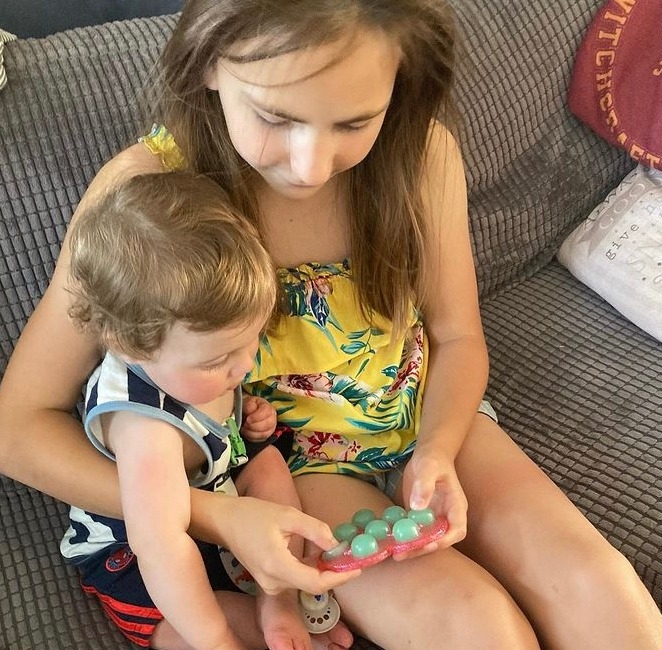 If you want to grab the latest fun fidget – Fidget Pop Slime then get yourself to Smyths Toy Store quickly! It is so satisfying and it is the perfect ASMR addition to your collection! This Fidget Pop Assortment offers so many options, textures, and sensations. Push and pop the slime ball, or squish and squeeze it for the most satisfying sensation. These compact fidget toys are easy to take with you wherever you go. You can experience the fun, satisfying effects whenever you want, on the go!