We visited Skegness Butlin's this summer as our first holiday as a family (minus 1). I didn't know what to expect and what to take so I wanted to write a guide to help others. Nick loves Butlin's but the last time he went was pre world shutting down so he wasn't sure how it would be.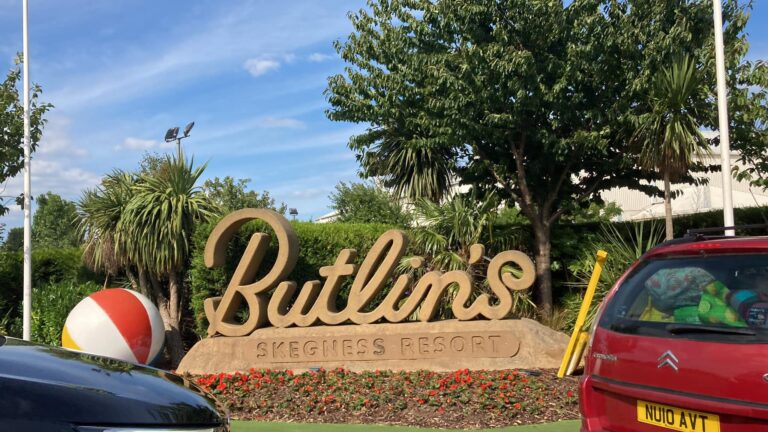 Accommodation At Skegness
Let's start with the accommodation and what you get. The minimum that you pay for is your accommodation and you choose what you require when checking the prices. There are a number of options available and it all depends on which of the 3 resorts in the UK you pick. There is Bognor Regis, Minehead and then there is Skegness – which is where we went recently. 
Each resort has a price range for their rooms, apartments and what they call their gold accommodation. From what I've read online the Bognor Regis site has a hotel but I can't comment as not been there. When you book your accommodation, it will tell you what is included. As a minimum, your accommodation will have beds and bedding. If you choose the room only option you need to be aware that this is just a bed, Wi-Fi and a bathroom depending on the site. It is very much a base for sleeping.
At Skegness there is also the caravan park which you access this by going under the main road. We think this is part of Butlin's but we aren't 100%, it is called Butlin's caravan village.
All the other room packages should include tea/coffee making facilities, a tv, wifi and washroom facilities (either a bath, sink and toilet or shower, sink and toilet) as a minimum. We booked a New Style Silver Accommodation, and this included one double and two rooms with 2 single beds in each, a lounge, a kitchen table and basic kitchen appliances (microwave, kettle, oven,fridge and sink).
It also included a private single toilet, basin and shower combo – be careful with the shower doors as all the kids managed to get stuck in there. In the room it included an ironing board and iron too but we didn't use these. We got a few towels but it wasn't enough so bring your own. We had a clothes airer in our apartment and this was 100% needed for drying the swimming costumes and towels. Each room had a wardrobe but there wasn't much space in the rooms for anything else.
If you want to guarantee that you get a ground floor accommodation then you will need to pay extra, we paid £15 for this when booking. It was definitely helpful as we had the buggy. 
If you are booking your next trip whilst you are on holiday then you will get a discount if you book then and there or within 30 days of being home. Be aware though if you want to select a certain apartment/ ground floor / anything extra then you will still have to pay the extra.
Certain apartments have balconies and themed rooms such as funfair apartments, seaside and gold.
Food Plans At Butlin's Skegness
We stayed in an apartment and as it has a kitchen area we could of gone self-catering but when we worked out the cost per person per day it worked out more expensive than the food court package. Really think about this before you choose your options. The restaurants are around £15+ per person for a basic main so the meals can work out to be expensive.
If you are staying in a room or hotel then the food packages are the way to go for you as you won't have a fridge or kitchen. There is a SPAR on site but it is expensive so bring things with you, or find a local supermarket!
Butlin's offer a few different dining plans depending on your budget and resort. All resorts offer Food Court (which is what we did), but there is Premium Dining and Dine Around too. Bognor Regis has other options but I haven't stayed there so can't comment on it.
The Food Court Dining Plan offers something for everyone. It is two meals a day so you just need to pay for lunch / snacks / ice cream. It is based around an all-you-can-eat buffet style. At breakfast they try to include all the usual continental and cooked breakfast options as well as tea, coffee, juice and water.
In the evenings the style is very much the same as at breakfast and they offer a mix and match system such as chicken nuggets, fish, chips, pizza, curries, salad bar and hot and cold deserts.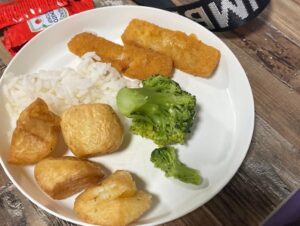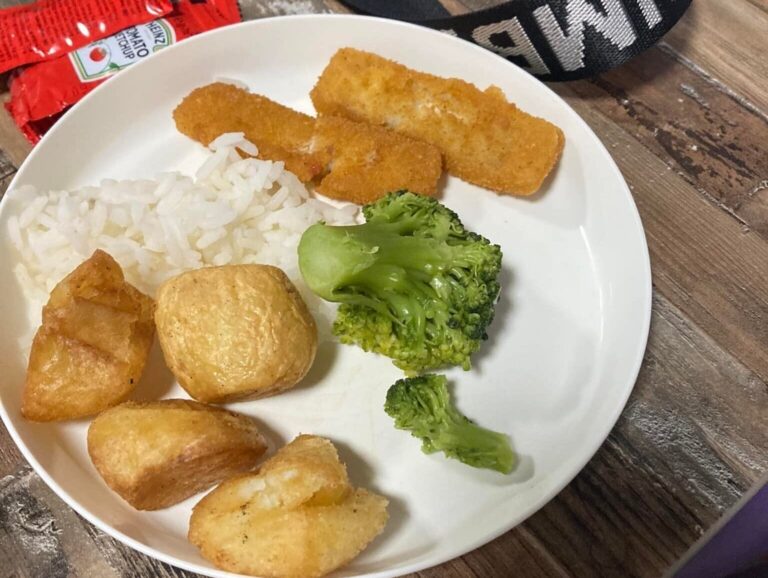 Heads Up – The juice cups are small so either get a few each time you go up or take a bottle of water with you. There is a bar but 4 fizzy drinks cost us £8 and they weren't even cold. There is only one juice station in each restaurant at Skegness and it's very hot in there so it gets very busy. 
Top Tip – If you have under 2's with you then you can get 2 Ella's kitchen pouches per meal time, which we did but we also got Ezra soft food from the buffet that he could chew. Some floor staff had no idea what we were on about so ask the staff at the buffet. You need to bring your own baby spoons for an easier life.
The Premium Plan offers a similar selection to the Food Court for breakfast with the addition of a live omelette, pancake cooking station and breakfast station. For your evening meal, it is similar to the Food Court Plan with the addition of the live pasta, grill and wok cooking station.
I would of loved this but it is considerably more expensive, if it was just us going, I think we would have considered it.
The Dine Around plan is available for all guests at Minehead and Skegness but only hotel guests at Bognor Regis. Dine Around allows guests to have an all-you-can-eat buffet breakfast and either a two-course lunch or dinner including a drink (alcoholic or soft) in one of the resort restaurants. 
I don't know if its the same at the other two but at Skegness – the restaurants available to choose from are :
The Beachcomber
The Diner
Firehouse Grill
Rock 'n' Sole
Ludo's Italian
Snacks & Bars – Extra Charges
Scoops
Seaside Treats
Costa Coffee
Jellyfish Lounge
HotShots
Hotel Dining is only available to guests staying at the Shoreline and Ocean restaurants at Bognor Regis.
Shows At Butlin's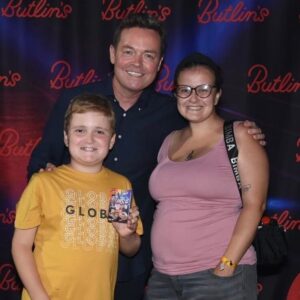 Butlin's resorts each have 4 different venues where you can see shows: Centre Stage, Reds, Skyline Pavillion and Studio 36.
All the shows in these venues are included in the price of your break. Each year Butlin's have some regular shows and then a range of headline acts. If it's on the line-up then we recommend The Animals vs Dinosaurs Show, The Rollerboys and the Stephen Mulhern magic show. We didn't visit Centre Stage as it had huge queues every time and Reds was way too hot, loud and busy for us to enjoy it.
Daily Shows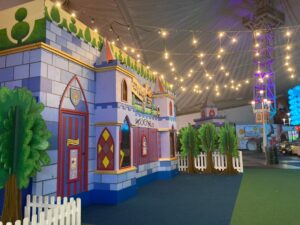 Puppet theatre
Skyline Gang – the mascots of the Skyline Pavillion, they have 2 different shows each year.
Billie & Bonnie – the Butlin's mascots who do a Get Up & Go show to encourage activity and movement. They also do a Billie & Bonnie In… show which has themed merchandise in the shop. 
Panto – the resort entertainment team put on a panto
Tribute shows by the resort entertainment team 
Tribute shows by visiting acts who tour all 3 resorts 
Redcoat entertainment e.g disco / quiz
Circus Show **
**Not Free.
Headliner Acts
Every year Butlin's has a big name act perform at each of their resorts, these will vary and the majority will be during the school holidays. This year was Stephen Mulhern and we got tickets as soon as they were released. We didn't realise that we would need to queue though, luckily as it was just two of us we got awesome seats near the front. There is a meet & greet for these shows at end (be prepared for long waiting times) plus a merchandise stall which takes cash only.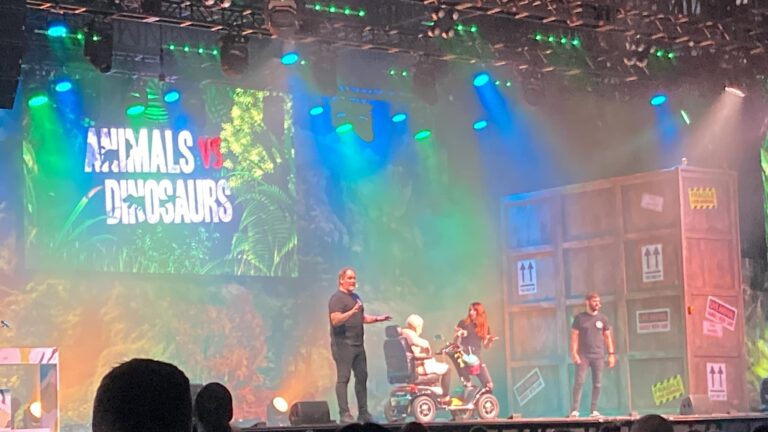 All the acts are included in the price of your stay but learn from our mistakes and make sure you start queueing about an hour before the venue doors open. If you want get a table then you need to queue early and then you can use the B-Serve app too.
All the venues have big TV screens so you see what's happening if you are too far back but most of the shows are big enough to see wherever you are sat.
Activities At Skegness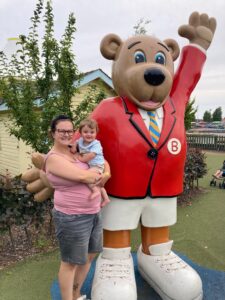 With the range of ages of our kids we looked at all the activities multiple times and worked out the best value for money. This is where you will spend money but there are activities that are included in the price.
Fairground – Features Chargeable Activities 
Little Stars Fairground
Soft Play –  Booking Required 
Swimming Pool – Queues Likely / £1 Per Locker [Refundable] 
Playgrounds
Tots & fun football – Booking Required 
Sand art – Booking Required 
Slimey science – Booking Required – Kids Recommend
Character photoshoots – Booking Required / Photos Cost Extra
Extra Charge Activities (Skegness)
The following activities cost extra and need to be booked in advance. I have included the cost per person for each of these below. They vary from each resort and there might be more but this is what I saw at Skegness.
Archery £12 – Recommended by Nick & Kids
Mini archery (age 5-7) – £6
Laser Tag £15 – Ethan Wants To Do This Next Time
High ropes £15 [8+ / Skegness Price / £13 in other resorts]
Free fall £8 [8+]
Climbing Wall £12 [5+]
Pottery painting Starts at £5
Football coaching £10 [Different age levels – price may vary]
Go karts £7 – Recommended by the Kids
Bowling £7 per adult / £6 per child
Pool £5 per table [30 minutes]
Adventure golf £5 pp
Ninebot £10
Bear workshop £28 for a choice of bear and an outfit
Trampolines in the Fairground £7pp
Donkey Derby in the Fairground £2 pp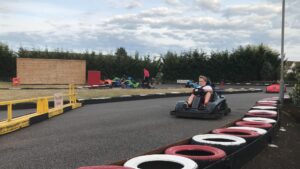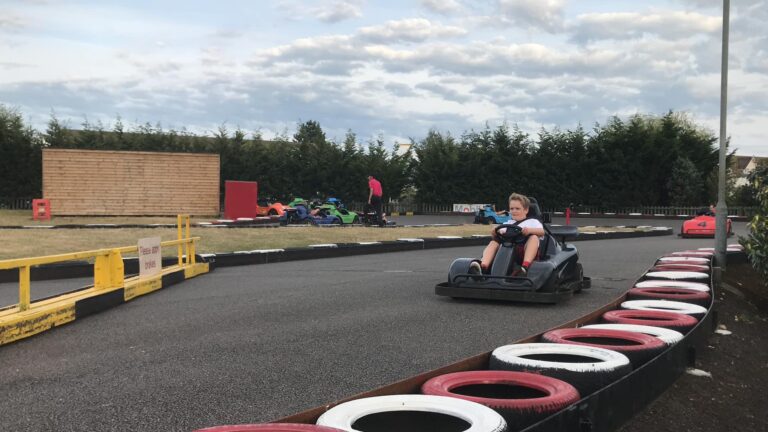 Obviously there is the arcade too which ranges from 2p up to £5 for various games. Tickets can be traded for prizes but there is nothing too amazing. There are other chargeable extras that are seasonal i.e pumpkin carving or visits to Santa.
In Skegness they are extending the funfair for 2023, the proposed ideas are sounding good but there wasn't much done so far when we were there.
Photo Opportunities
We had photos taken with Billy & Bonnie, The Rollerboys, Optimus Prime and Stephen Mulhern as well as photos in the pool. We got these as a digital download all in for £30 but there is other packages available which included print outs, keyrings, magnets etc. I found the photos to be expensive but worth it for the memories especially the pool ones.
The pool photos are a 100% must in my mind as you can't take your phone into the pool so it was great to capture Ezra's first swim. We did see the Skyline Gang, Peppa Pig and George, as well as Rainbow the dog having photo opps with other guests so worth queueing up for it if your little ones want photos. These can't be booked and queues are only open for 20 minutes at a time.