Mini Delices 5 in 1 Chocolate Workshop [AD]
The Mini Delices 5 in 1 Chocolate Workshop is designed to help you and your little ones create their own yummy chocolate treats. There is pretty boxes and clear packaging so they can give them as gifts if they choose or just snack on themselves. It would make a perfect after school task ready for dessert later on.
What's in the box?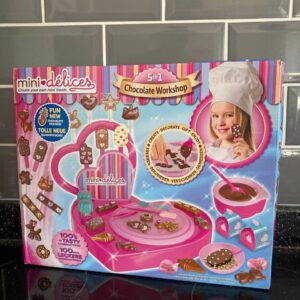 Inside the box you get a workstation which needs minor assembling before adding the sticker. There is a bain-marie for melting the chocolate in and a bowl which clicks in to place on top which is where the chocolate goes to melt.
There are 4 moulds which can be used to make shapes with the chocolate as well as 2 containers for sprinkles, a bowl, a mini brush, a mini spoon, a pair of mini tongs, a mini serving spatula, six reusable plastic lollipop sticks, six reusable flat sticks, three reusable mini gift boxes (if opened carefully). For gifting purposes there are six foil chocolate wrappers and 12 lollipop cellophane gift bags which are not reusable and would need replacing once they are used.
You do need to supply your own chocolate and decorations. We used 33p chocolate bars from Tesco, but we would have usually used ALDI own brand. Any of your favourite chocolates will work but anything with caramel in it or added extras might not melt as smoothly. We can't wait to try it with white chocolate and more adventurous decorations.
(Not an ad,gifted or sponsored by Tesco or ALDI)
How does the Mini Delices 5 in 1 Chocolate Workshop work?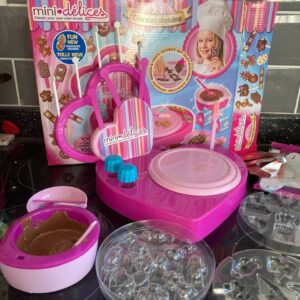 Fill up the bottom part of the bain-marie with hot water from the tap to the line and then click the bowl on top. The instructions recommend filling with water from the tap, but you could use water from the kettle. Obviously, this requires closer adult supervision as it is dangerous. Once the chocolate has started to melt, use the spatula provided to move the chocolate around in the bowl until it's smooth and all melted.
There are moulds for shapes, and ones to make small lollies / chocolate sticks. They are a mixture of lolly shapes and cute characters like, clouds, llamas and unicorn cats. Place the chosen mould on to the turntable and spoon the chocolate in. Gently tap it on the turntable or the counter to evenly spread the chocolate out and remove any air bubbles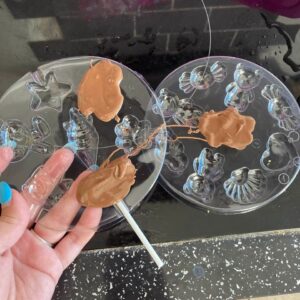 Make sure you add decorations like sprinkles before you fill up the chocolate mould to make sure they can be seen on the front of the chocolate.
Now put all your chocolate shapes and lollies into the fridge; they take around an hour to set [with this heat it might take longer] and then you can package them up to gift them or eat them.
How did the chocolates come out?
The chocolate melted really easily and smoothly and I have to admit I was impressed. Once it was in the moulds it was perfect and set without any bubbles, whiteness or any obvious signs it had been melted and reset. My husband tried them and said they looked awesome and tasted great too, it didn't have any graininess or bitterness from it being melted.
What Did We Love about the Mini Delices 5 in 1 Chocolate Workshop?
The Mini Delices 5 in 1 Chocolate Workshop is a toy that requires little to no supervision in our house as A & E are 10 and 9 so apart from the hot water, they could do it all. They didn't eat it all either surprisingly! The number of reusable items was decent compared to some kits you buy but I feel like they could of easily included the sprinkles.
where Can You Purchase The Mini Delices Chocolate workshop?
The Mini Delices 5 in 1 Chocolate Workshop , is available from Amazon and it is a great price as it has a RRP of £30. It is definitely one way to kill some time this summer holiday or a perfect Christmas gift for a creative little one.
We have been gifted this item to review but all thoughts, photos and content belong to DittrichDiary and are not views of the company.
Other Post You Might Like: