Super Cute Little Babies [AD]
Ava couldn't contain her smile when she realised these 'Super Cute Little Babies Toys' were for her and when I told her, they weren't even in the stores yet, she was ecstatic. Ava loves them because they're super cute, interactive and they all have superpowers. The message behind these dolls is awesome as they go on missions to help the environment. Ava's doll Sofi is a garden related doll but before we get into that the dolls come with a BIG first mission – to separate and recycle the packaging.
Super Cute Little Babies have been created to make children think twice about their environment. They want to get children to learn about being eco-friendly through pretend play.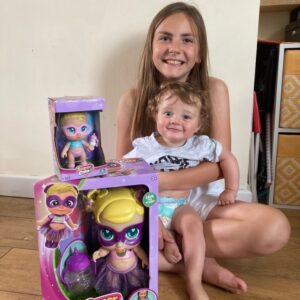 What Does The Super Cute Doll Include?
Once you have removed the mask as it is elastic banded to the face, you can remove any of the accessories you want too and get playing. Ava was straight to getting it to look like a standard baby doll, but she loved the superpower element too, it kept her quiet for hours. The magic appears when you feed the doll with their juice cup and the magic emblem on the tummy lights up and magical sounds play. This is the doll 'powering up' ready to help save the world, one juice sip at a time.
The doll comes with a removable mask, shoes, knickers, and a skirt, as well as a reversible cape/bib. The standalone items this dolls includes are a juice cup, dummy, comb, and hairbrush.
Our Opinion On The Super Cute Doll
We were a bit disappointed with the back of the doll as the hair is SUPER sharp and we have scratched ourselves on it many times. The paint job isn't ideal on the doll and there are lots of patches of hair that are painted on the forehead not the scalp. Considering the price of the doll (RRP) this was a little disappointing.  The cape looks cool, but the ties are too short, so it was hard to fasten, and it kept falling off.  It took us a while to work out the cape tucks into the back of the bib in order to make it a proper bib not just a huge cape with a bib stuck on it.
Ava loved it despite its few flaws and she hasn't put it down since opening it. She loves it and I reckon it will be a very popular toy.
Which Doll Did We Get?
Our doll is Sofi and Sofi's superpower is that she can control trees, plants, and flowers! She is able to communicate with them and understand their needs. Sofi loves spending hours tending to her garden. Ava loved taking her around the garden checking which plants needed watering and making sure she was doing her mission correctly. We did receive a mini version of the dolls however I can't find these online at the time of posting.
I would put money on it that these dolls will be extremely popular at Christmas, and they will be on the wish list of many little children.
Just as a heads up, the dolls do require two AAA batteries, a small cross head screwdriver and a pair of scissors to access them. They are not included.
They are available from Tesco Stores and The Entertainer Now.