I have joined in this year with the BIG Festive Gift Guide Giveaway 2022. Myself and other bloggers have all come together to offer a very lucky person an opportunity to win an array of incredible prizes. We all know that Christmas is going to be tough this year on all our budgets so we hope these prizes will help make it easier for you. Thank you to Rowena at My Balancing Act for setting up this giveaway and getting us all involved.
This year is so exciting with lots of prizes for one lucky winner which will make a family Christmas dreams come true with over £800 worth of festive goodies and gifts in this giveaway.
The Great Festive Gift Guide Giveaway 2022
We are back for another Festive Giveaway! Some of the top UK bloggers have united to bring you the most amazing holiday bundle of prizes. Last year's giveaway proved to be very popular and this year is just as exciting with so many prizes for one lucky winner to make your family Christmas dreams come true. In fact, we have over £800 worth of festive goodies and gifts!
KEEP SCROLLING DOWN TO ENTER AND FOR THE FULL LIST OF AMAZING PRIZES – We've saved some of the best to last! This is not only a giveaway but also a great holiday gift guide with ideas for the whole family this festive season.
The Prizes For The Giveaway
PAJ GPS ALLROUND Finder 4G, a GPS Tracker for vehicles, cars, people and objects
The PAJ GPS ALLROUND Finder 4G will help our lucky winner protect what they love! The small and handy device has an SOS emergency button and alarm. Splashproof, it offers flexible use with a battery that lasts about 20 days with an active tracking time of approximately 1h/day and up to 40 days in standby mode!
The Online Tracking Advantages include:
Real-time location and live tracking. Its location will be updated every 30 seconds (even sooner if the tracker is changing direction)
365 days' route information
SIM card will always search for the best available network
Tracking in over 100 countries
Built-in vibration sensor. As soon as the tracker is moved, an alarm will be sent via email or as push notifications via the app
We have a PAJ GPS ALLROUND Finder 4G as part of our prize bundle.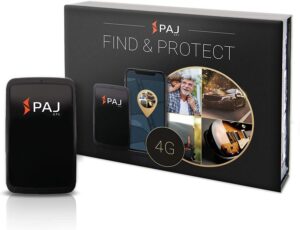 Jurassic World REAL FX Baby Blue Dinosaur Toy
This is the must have Christmas Toy this year for any dinosaur fans and we have one Jurassic World REAL FX Baby Blue Dinosaur Toy from WOW! STUFF for our lucky winner! The hyper-realistic Real FX Baby Blue makes genuine Velociraptor life-like roars, chatters, snarls and purrs, just like in the Jurassic World Dominion movie. She also replicates the actual size from the Jurassic World movies. You can hold and control Baby Blue and activate protect, lunge, battle and bite actions. Simple to operate Real FX Baby Blue makes an incredible gift for Jurassic World fans of all ages, from kids to adults!
Merlin Theme Parks Anytime Choice Voucher from Red Letter Days
Get set for an exhilarating day to remember! Our winner can spend a fun-filled day out for two people with anytime entry to a Merlin theme park with a Merlin Theme Parks Anytime Choice Voucher
from Red Letter Days. The prize includes entry to either: Alton Towers Resort, Chessington World of Adventures Resort, LEGOLAND® Windsor Resort or THORPE PARK Resort.
Snuggle Slipper: Navy blue suede NSPCC rainbow slip-on slippers from Start-Rite
To mark Start-Rite's 230th birthday, they've partnered with the UK's leading children's charity, the NSPCC to create an exclusive Snuggle slipper with a joyful rainbow design. The traditional moccasin style slipper, Snuggle, can now help to support thousands of children across the country and for every pair of Rainbow slippers sold, Start-Rite will make a donation to the NSPCC.
Crafted from a navy blue suede upper, with a bright rainbow motif and lined with snuggly faux fur, these slip-ons are sure to keep your little ones' feet comfy and warm around the house. Our lucky winner can choose a Snuggle Slipper in the available size of their choice and you can check out the full range of slippers here.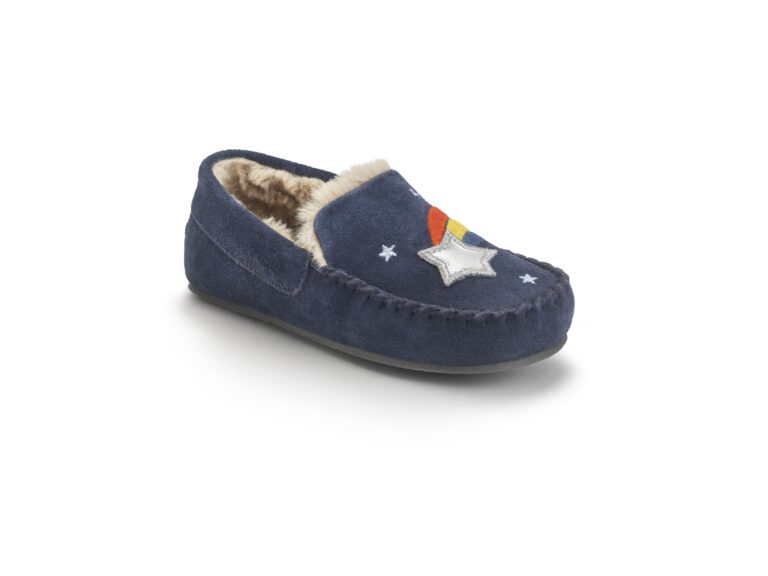 A Swimsuit and Goggles from Halocline
You're going to love the new styles from Halocline Swimwear! You can get your New Year off to a fresh start by winning a swimsuit and goggles of your choice. Pick your favourite design from their new range of ladies' swimsuits at Halocline and team with a pair of goggles.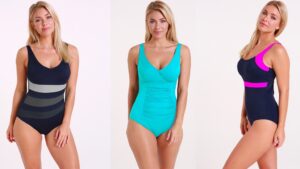 Styles shown are Iris Longer Length Swimsuit in Grey Ombre, Ava Longer Length Swimsuit in Turquoise and Stella Longer Length Clipback Swimsuit in Navy/Pink.
Many styles in Halocline's collection are made from Econyl® recycled nylon yarn, which is created using waste plastics that would have otherwise ended up in the ocean.
You'll love the fit of a Halocline swimsuit – there are styles for all shapes and sizes. There are longer length styles for the taller swimmer, swimwear with bust support, plus size swimwear and, for those looking for a bit more coverage, they even have legsuit and kneesuit swimsuits.
The Snowman© Reusable Window Stencil and One Snowy Night Scented Candle
Brand New for 2022 Snow Windows bring a favourite Christmas character to life in an exclusive new Snowman snow spray stencil! They are the official (and only!) creator of snow spray stencils for Raymond Brigg's Christmas classic The Snowman©, and we have one of these beautiful stencils for our winner.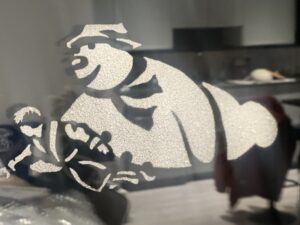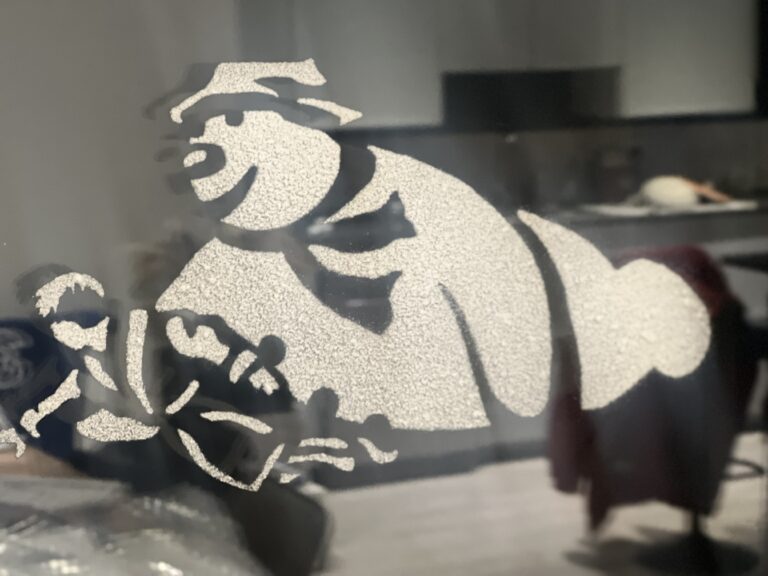 Not only that but the lovely people at Snow Windows are also giving our lucky winner their new One Snowy Night Scented Candle. The candle has a delightful scent of myrrh and tonka bean. Tom at Snow Windows designed the beautiful imagery . And there's even a QR code in the candle box so you can see a video of him hand spraying the design in snow spray! Keri at Snow Windows worked with the fabulous team at Molecule to create the fragrances to stimulate your senses, create a festive mood and provoke festive memories for years to come.
Individually hand poured with love and care in a farmhouse workshop using a blend of coconut and rapeseed wax, essential oils and botanical perfume oils. They contain absolutely NO nasty phthalates, paraffin, palm , beeswax or artificial additives. The slowly burning candle features a crackling wood wick.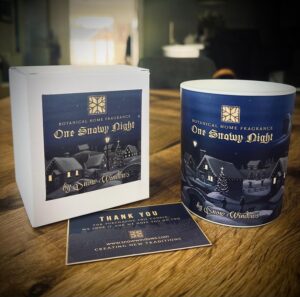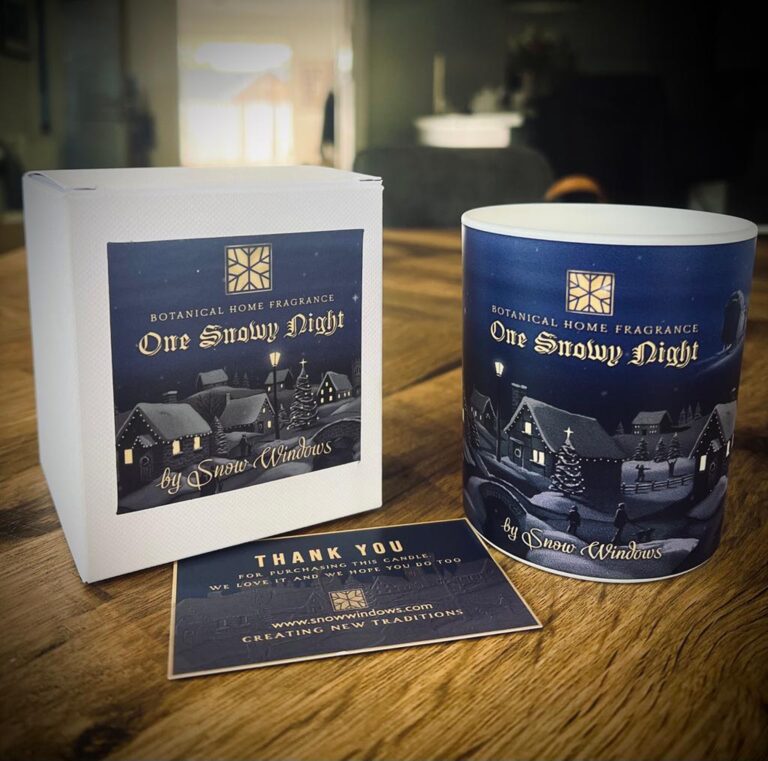 Milk and White Chocolate Christmas Jumpers from choconchoc
The clever folk at choconchoc have managed to combine two of our favourite Christmas traditions – the Christmas jumper and chocolate! The artisan chocolatiers have combined the two to bring you their festive Chocolate Christmas Jumpers Gift Box. These festive treats are made from a blend of the finest dark, milk and white Belgian chocolate. Each box contains four chocolate jumpers featuring Christmas reindeer and penguins and we have one box for our winner to enjoy.
Personalised Fleece Blanket from VistaPrint
Our lucky winner has the chance to get cosy with their own unique personalised fleece blanket, worth £45.00. Whether you're looking for a fun yet practical gift or just want to add something new to your home design, personalised fleece blankets are a memorable keepsake and VistaPrint has a wonderful selection to choose from, all of which can be easily customised with your own personal messages and photos of your friends, family or even your pets!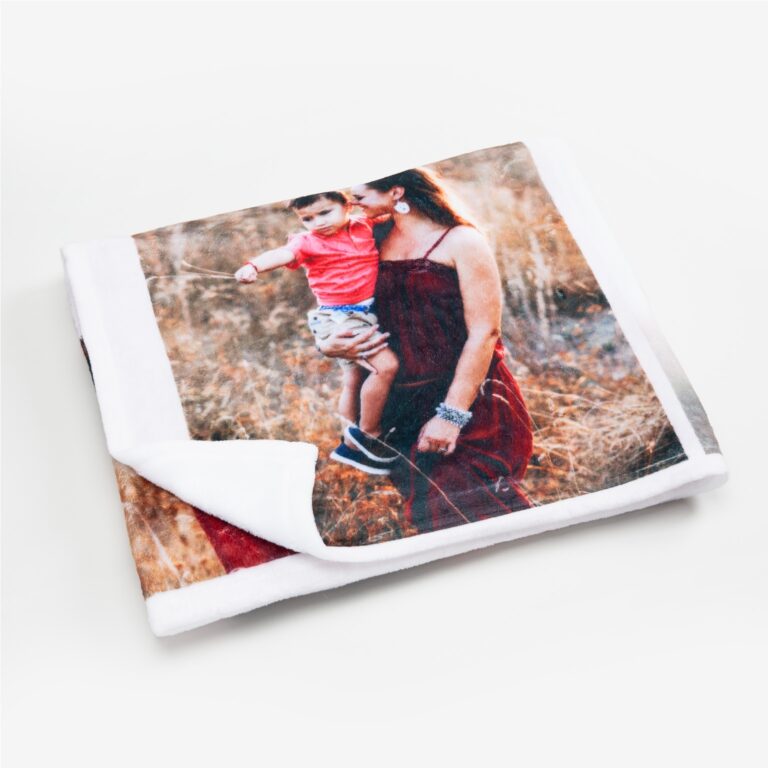 NEW LIFE PRO Frying Pan 20cm
This is the perfect gift for any kitchen lover. It will also help you make the Christmas dinner in style! The NEW LIFE PRO frying pan is more environmentally friendly than most frying pans. It's made of high quality 100% recycled aluminium from Europe and is produced with up to 95% less energy than conventional aluminium pans.
Produced in Switzerland, the thick base stores and distributes heat perfectly. The durable 3-layer non-stick coating reinforced with ceramic particles, is ideal for low-fat frying. It has an ergonomic stainless steel stay-cool handle and it is suitable for all hobs, including induction.
The easy cleaning saves time and water. The packaging is made of 100% recycled paper. NEW LIFE PRO from Kuhn Rikon is a range of pans produced with the aim of creating a greatly reduced impact on the environment.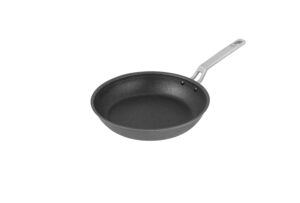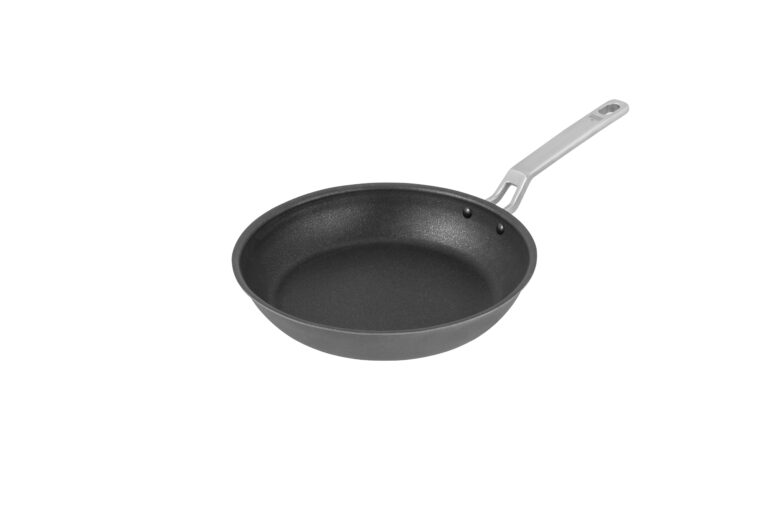 Utensil Set from Mason Cash
Another wonderful gift for anyone who loves cooking, the gorgeous range of kitchen utensils from Mason Cash will put a smile on any home baker's and cook's face! The winner will receive the following from the set:
Innovative Kitchen Turner & Rack Grabber: Ideal for turning meat and vegetables in pans or oven trays, the slots allow liquid and oils to run free when stirring or lifting food. The handle is specially designed to pull out and push in oven racks when checking on bakes.
Innovative Kitchen Solid Spoon & Jar Scraper: The Baker's Spoon with Jar Scraper is ideal for beating, stirring and blending. This 3-in-1 utensil features measurements for 1 tablespoon, 1 teaspoon and 1/2 teaspoon on the spoon head and a silicone jar scraper and spatula on the handle.
Innovative Kitchen Slotted Spoon: The Slotted Spoon with Egg Separator is a specially designed 2-in-1 utensil. The spoon is ideal for stirring and draining food in water, sauces or oils and the slots on the spoon head are designed to separate egg whites from yolks. The grooves on the back of the spoon handle allows the spoon to sit on a Mason Cash Mixing Bowl or Pudding Basin, making separating your eggs easy.
Innovative Kitchen Spatula: The Spatula is perfect for stirring mixes and scraping bowls and pans clean. The head can be removed and used as a bowl scraper and the small spatula is perfect for spreading frosting onto cakes and scraping the inside of jars.
Innovative Kitchen Whisk & Reamer: The Whisk and Reamer is a specially designed 2-in-1 Utensil. The stainless steel balloon whisk is perfect for whisking eggs, cream and cake mixtures and the reamer handle is perfect for juicing lemons and limes.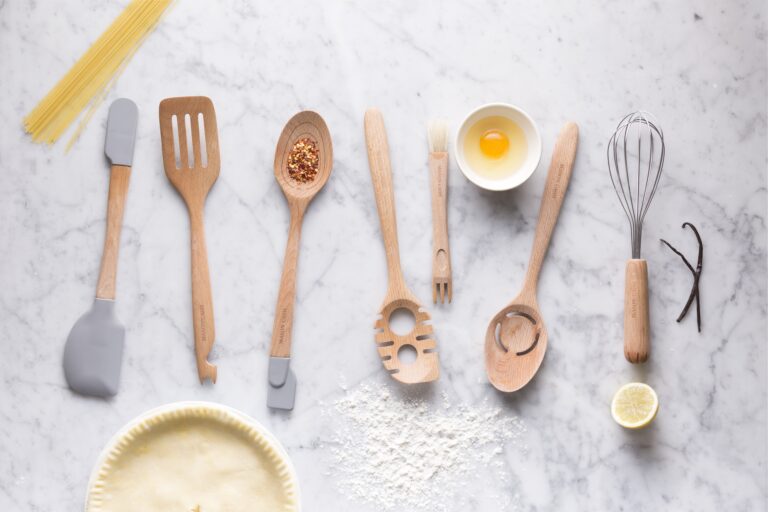 NORDIC WARE Cosy Village Pan
This lovely cast aluminium non stick cake tin features six unique cottages. The intricate cosy village cake pan detailing makes them fun and easy to decorate so your guests and family will love having their own mini cottage cake. The cast aluminium non stick cake tin is made to last so you can use time-after-time. The interior non-stick coating on the muffin moulds pan makes for easy release and quick clean up time after baking.
Opinel Gardeners Gift Set
This 3pc Opinel Gardening Set makes a beautiful Christmas gift for any garden lover. Presented in an attractive wooden display box, the set includes a folding saw, garden knife and pruning knife, all with beautiful beech handles and VIROBLOC safety locking ring.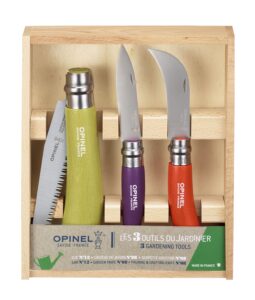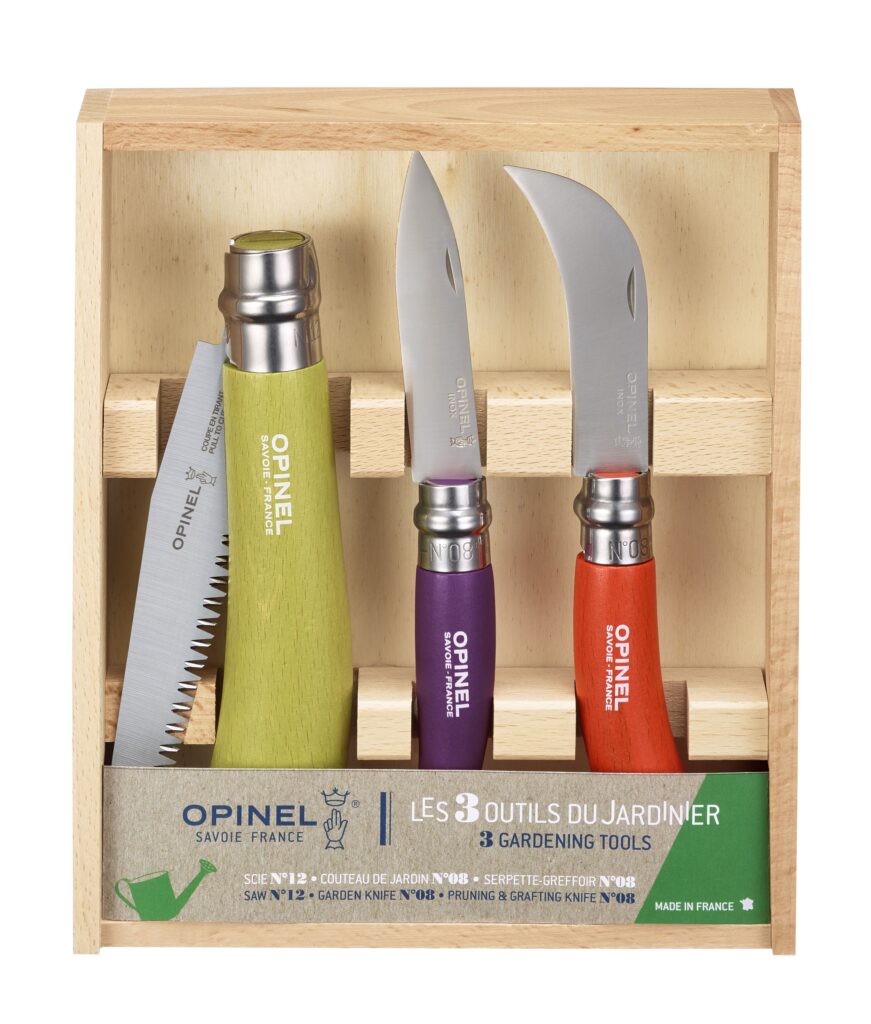 Kids Against Maturity Card Game
Are you ready to laugh out loud with your kids this Christmas? Good, because this game will have the whole family in stitches! Kids Against Maturity is the perfect way to spend quality family time together. Made and played by parents, the game includes age-appropriate toilet humour and funny innuendos for the adults. It can be enjoyed by the whole family and is the ideal game to keep everyone entertained on Boxing Day!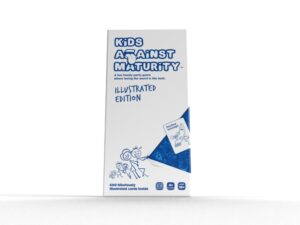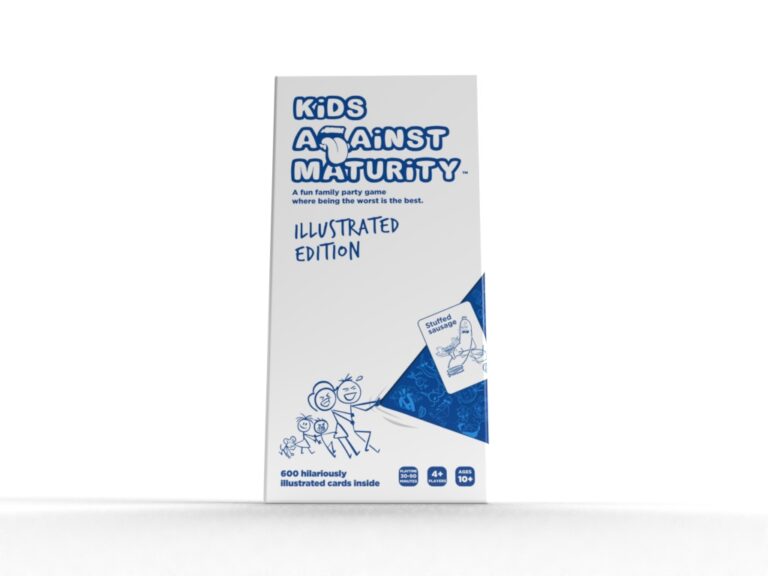 The Fuzzies Game
The Fuzzies is the must have game this Christmas! Create gravity-defying towers out of the fuzzy little balls. The aim of the game is to not knock over the tower as you skilfully remove the colour of fuzzy that you've drawn from the cards using either tweezers or your fingers. Sounds simple right?! Wrong! The rules state you can not get out of your seat! Once you've removed your fuzzy you can stick it anywhere higher on the tower. The Fuzzies is so much fun for all ages.
Mickey's Christmas Carol
Another fantastic game for the whole family to enjoy, Mickey's Christmas Carol is both festive and fun! Focusing on simple gameplay and collaboration, players work together to complete their story tableau – Christmas Past, Present and Future from this timeless classic. Puzzle tableaus depict iconic moments from the story, and players must complete them in order before Scrooge wakes on Christmas morning. The game includes a wooden Scrooge mover to track your progress and six beautifully illustrated scenes inspired by the Disney classic.
RAINBOW Notebook from Belly Button Designs
This lovely RAINBOW notebook is perfect for writing down all your dreams and ambitions for 2023. With a gorgeous rainbow on the front cover and the words Dream Big, it makes a lovely gift for Christmas.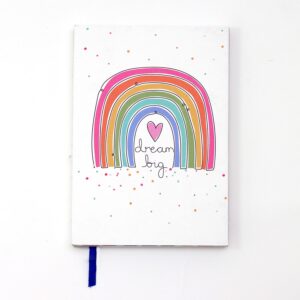 Christmas Robins China Mug
This beautiful new bone china Robins Mug from Belly Button Designs is perfect for Christmas. The lovely robins will get you in the festive spirit. We have one gorgeous mug for our lucky winner as part of the prize bundle.
Magic and Cheer Luxury Scented Christmas Candle
You will be transported to a festive wonderland with this lovely citrus led scented Magic and Cheer Candle in a tin from The Copenhagen Company. The fragrance is entwined with a blend of delicious Christmas spices including cinnamon and cloves, sweetened with a touch of vanilla and held together with the warm and woody notes of sandalwood and cedar.
CARDOLOGY Peter Rabbit Christmas Card
This lovely Peter Rabbit keepsake Christmas gift from the iconic Beatrix Potter stories will make Christmas extra special for your little ones. This officially licensed handmade 3D pop up Peter Rabbit Christmas Card brings to life, all of the characters, like Peter Rabbit, Flopsy, Mopsy, Cottontail, Jemima Puddleduck and Mrs Tiggywinkle as they decorate the Christmas tree.
This is a beautiful Christmas card that can be kept on display long after the event and can be brought out year after year as a Christmas decoration. A keepsake Christmas gift for the memory box, especially with the addition of a pull out notecard insert so your message won't be on show when the card is displayed. The packaging cleverly reverses to become a beautifully designed gifting envelope, making it a lovely gift and card for a loved one.
This card is produced under licence from Penguin Ventures.
Forever Living – Smoothing Exfoliator
This smoothing exfoliator won the Woman & Home Beauty Award 2021 in the Best Exfoliator category. It is eco-friendly using natural jojoba and bamboo – no nasty plastic microbeads. It combines ingredients that gently reveal healthy, glowing skin. Round jojoba beads massage the skin and penetrate hard-to-reach places for ultimate cleansing while sustainably sourced granules of bamboo delicately remove dead skin cells.
Natural extracts including bromelain, papain and lemon essential oil help regenerate the skin. Bromelain, an enzyme obtained from pineapple, destroys keratin, a protein in dead skin cells. Papain from papaya is rich in vitamins A, C, E as well as pantothenic acid, better known as B5—a water-soluble vitamin crucial for healthy skin. Lemon essential oil then richly moisturises and hydrates the skin for a youthful glow.
Grape juice extract and other antioxidants ensure effective and gentle exfoliation to reveal glowing skin. Designed to be used 2-3 times a week, exfoliated skin feels silky and smooth and is primed for better absorption of subsequent skincare products.
Price £19.18 available online
Gorgeous pink handbag from Amazon Fashion
This stylish pink handbag from Amazon Fashion makes a beautiful gift for someone this Christmas. Amazon Fashion have the perfect present, whatever your budget.
The Bloggers In The Giveaway
In order to be able to bring you this incredible giveaway some of the UK's top bloggers got together and contributed. A massive thank you to our bloggers for making someone's Christmas extra special! The bloggers taking part are:
My Balancing Act | Spilling Life Tea | Miss L J Beauty | Welsh Mum | Too Tired To | Otis and Us | Socially Rach | Land of Size | Wotawoman Diary | Just Average Jen | Midnight Review | Travel Lover Blog | Best Things To Do in Orlando | Florist or Flower Shop | Yorkshire Wonders | Crazy Little Thing Called Love | Fruit Picking Farms | Things that Start With | Luxury Hotels and Spa Life | At Home With Alice | Life in a Breakdown | The Thrifty Princess | Life Loving | We Made This Life | My Life Your Way | Cats Kids Chaos | Boxnip | Five from the Switch | Grit and Glamour Club | Hannah and the Twiglets | Side Street Style | Kelly Allen Writer | Two Plus Dogs | Best Things To Do In Cambridge | Mind Over Matters | Stapos Thrifty Life Hacks | The Grumpy Olive | You Have To Have A Laugh | Cintasplanet | Mummy Saver Money Maker | Life With Jupiter and Dann | The Money Making Mum | The Property Investor Blog | Anything and Everything Else| Adventures of a Yorkshire Mummy | My Three and Me | Life of a Fishermans Wife | A Guide to Gifts | A Suffolk Mum | Lisa's Notebook | Mummy Fever | Pounds and Sense | Melanie's Fab Finds | Hubby Helps | Catch Up With Claire | Kundali Center | Stressed Mum | Afshanesque | Missing Sleep | Big Family Little Adventures | Outdoors Family Adventures | Indoor Family Adventures | Big Dog Little Adventures | Retro Vixen | Starting Today | Joanna Victoria | Testing Time Blog | Pretty Core | Dittrich Diary | Joyful Bite | Evans Crittens | Renovation Bay Bee | The Financial Wilderness | Planes Trains and Buggies | Jolly Festive | Cold Tea and Smelly Nappies | Cyprus Property Blog | Best Things To Do in Orlando | Florist or Flower Shop | Yorkshire Wonders
How to Enter The Giveaway
You can enter the Christmas Giveaway by completing as many Rafflecopter widget entry options below as you like. All entries will be collected and one winner will be randomly chosen. Good luck!
a Rafflecopter giveaway
Terms and Conditions Of The Giveaway
UK entries only
The giveaway will run from 11.59am 03rd December 2022 to 11.59pm 19th December 2022.
The winners will be notified by email from rowena@mybalancingact.co.uk
The winner will have 7 days to respond after which time we reserve the right to select an alternative winner.
This prize draw is in no way sponsored, endorsed or administered by, or associated with, Facebook, Instagram, Twitter, YouTube, BlogLovin or Pinterest.
Prize open to over 18s only. Age verification may be required to receive some prizes.
If any prizes are out of stock then we will do our best to find a suitable replacement. but can not guarantee it. The prize for the Innovative Utensils only includes what is listed and not the full set on the picture.
Anyone who unfollows before the giveaway ends or doesn't complete the required entry action will be disqualified.
The prize is non-transferable, non-refundable and cannot be exchanged for monetary value.
We may be using a parcel service or RoyalMail for some of the prizes and their standard compensation will apply in the event of loss or damage.
Some items may be sent directly by the supplier and we do not have responsibility if these go missing and we cannot replace these.
In the unlikely event one of the companies withdraws a prize we cannot offer an alternative.
The winner's name will be stated on some or all of our blogger's websites and announced on Twitter and other social media channels. It will also be displayed on the Rafflecopter Entry. By entering this prize draw you give your permission for this.
Please note the winner may have the same name as you so if you see your name displayed, be aware that you are not the winner unless you have been notified by us.
We cannot guarantee the prizes will arrive in time for Christmas and there may be some delays in receiving prizes.