Small Business Christmas Gift Guide 2022
I know it is early to be talking about Christmas and Christmas Gift Guides but I have been sent some lovely products from small businesses to share with you in this years Christmas Gift Guide. I want to share them with you early to make sure that you have plenty of time to order them and receive them due to postage strikes.
---
London Pottery Company [AD]
We have been gifted a lovely London Pottery Teapot, Sugar Bowl, Milk Jug, Teacup with a Saucer and a gorgeous Cake Stand so we could throw the best afternoon tea for my mum for her birthday. This set is gorgeous and with the shades of red, blue, lavender and gold in amongst the flower design they make the London Pottery Viscri Meadow set a real showstopper. It has the wonderful "Made in the UK stamp" and it has been created by renowned ceramist David Birch.
These pieces feel so delicate, but they are made of very durable ceramic and they feel lovely when you are holding them. They have a weight to them but not too heavy that you feel like you might drop them when you have a full cup of tea inside of them. The Viscri Meadow Collection is decorated with beautiful wildflowers, which is inspired by Birch's love of the wildflower-dotted meadows of rural Transylvania and is enhanced further by accents of cornflower blue.
All the pieces in the London Pottery Viscri Meadow range are dishwasher safe ( the cake stand spindle is hand wash only) which makes them one of the easiest pieces to use as you don't have to worry about them being hand wash only or damage from the dishwasher.
You can purchase these pieces at the following website and see our full blog review here.
---
Lulah Lane Candle and Matches [AD]
We have been gifted two stunning pieces by Lulah Lane and these would make the perfect Christmas / housewarming / birthday gift. We have been gifted the Bubble Candle and the 'Light The Flame' Matches which come in such a cute little jar with a match striking spot on the bottom for easy use. I love the rainbow headed matches as they are so bright and colourful and go really well with the candle for a gift idea.
The candle looks so aesthetically pleasing on the shelf when it isn't being burnt and when it is it melts evenly and doesn't tunnel which is perfect.
You can purchase from Lulah Lane on their website, and you can get free shipping if you spend over £25 in one transaction. You can see our full blog review about Lulah Lane here.
---
Projection Necklace By Projection Jewels [AD]
We were approached by Projection Jewels to see if we wanted our very own projection necklace and I have seen these all over TikTok so I was very interested to see how they work. I have been gifted the heart shaped necklace and it has arrived and is gorgeous and is such a lovely way to carry a special photo with you without it being too obvious to the world. The pieces come with a beautiful jewel and your choice of photo inside. Each necklace is completely custom made and they are handcrafted by skilled artisans. In order to see the photo you can either look directly inside or use your phone's camera to reveal the picture.
Each wonderful piece comes in an elegant gift box in order to keep it safe and protected. The gift box is a perfect easy way to give the gift or you can choose to use a gift bag too.
The company doesn't only do necklaces, there are various different designs that can be done in bracelets and keyrings too which you can check out on their website here.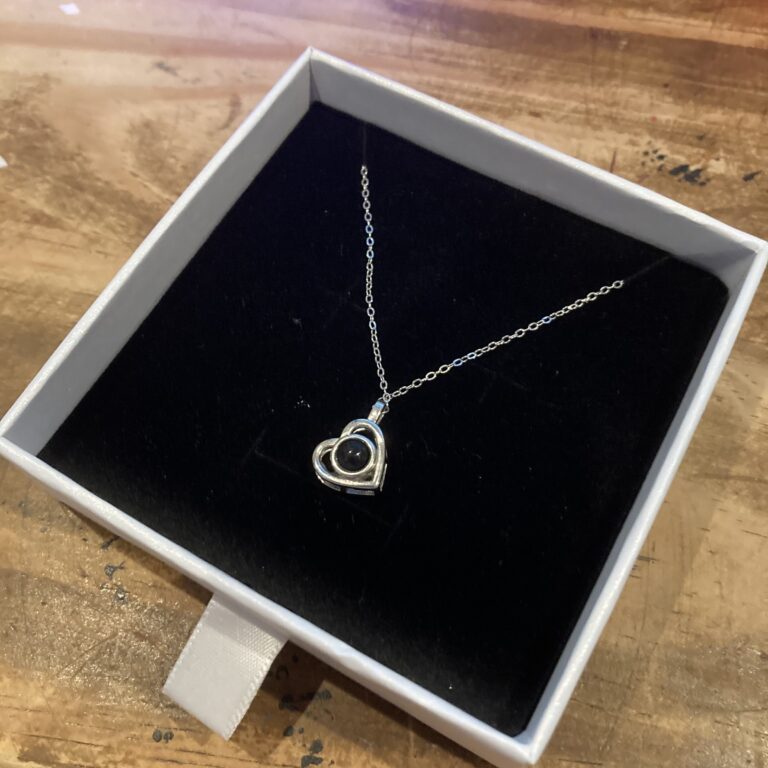 ---
Kellica – Harry Potter Gifts [AD]
We have been gifted a selection of AMAZING Harry Potter gifts by the lovely people at Kellica. If you didn't know, I am a huge Harry Potter fan who is a Hufflepuff too so a selection of the items I got were Hufflepuff themed but there are plenty of items in other house themes too. I received a Hufflepuff Bookmark, a Hufflepuff Scrunchie, a Hufflepuff Earring Set as well as two 'Crackers' Gift sets and the Advent Calender. They are all really high quality products and you can tell this from the minute you open them. I find with stocking fillers that they can be either be really expensive if you aren't careful but these are super affordable and would make great gifts for friends or a secret santa gift as they are within most budgets. If you want to read our full blog then pop over and read it here.
Use MEGAN10 for 10% off until the end of November and please quote you saw "Kellica" in our Christmas Gift Guide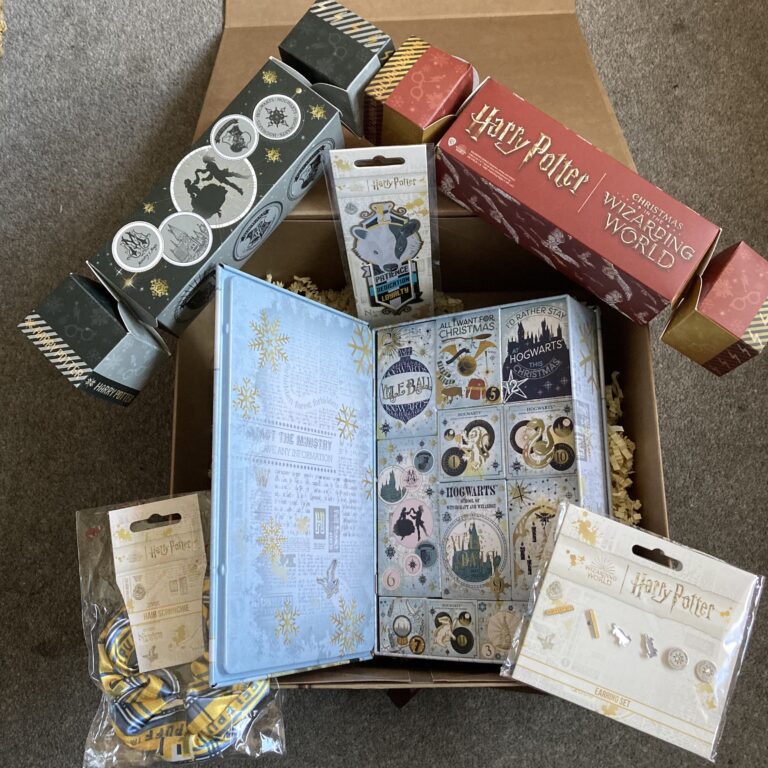 ---
BrainBox Candy – Cards & Gifts [AD]
We have been gifted 2 christmas themed cards from BrainBox Candy and I can't wait to send them to our friends as they will totally get my sense of humour. First of all I got the "Have a Turtley Awesome Christmas" by Charly Clements Illustration and "She Lay Under The Tree, To Remind Her Family That She Too Was A Gift" by Bold & Bright. We don't send a lot of christmas cards anymore due to postage prices but I am really looking forward to sending them as they are unique and quirky. BrainBox Candy isn't just a website for brilliant cards, they also do awesome wrapping paper, gifts, notebooks and so much more. It really is a site for everything and full of lots of individuals artists, designers and illustrators.
Check out their website here and use our special christmas gift guide discount code: DITTRICH20 for 20% off (no minimum spend).
---
Things To Do While You Poo Book [AD]
This fun activity book does what it says on the tin. It is a book full of silly things to do whilst in the bathroom including:
Fart jokes
Word finder
Dingbats
Sudoku
Mazes
Dot to dot
M.A.S.H game
Word games
Finish the doodle
Poop checklist
It is slightly larger than A5 but not quite A4 size. It is classed as a pocket size book and it really is the perfect size to keep in the bathroom whilst you're waiting for things to happen! The book and puzzles are bathroom-themed throughout and believe me the 10 year olds have found it hilarious to read and flick through. This would make the perfect gift for a teenager (maybe male rather than female), or as a secret santa gift for the colleague who does lots of bathroom breaks. It really does make the perfect ice breaker present for your 'hard to buy for' family member or to raise a laugh from your colleagues/friends!
You can grab this from Amazon via this link** and if you want to see the full range of products then check out this link for the authors website.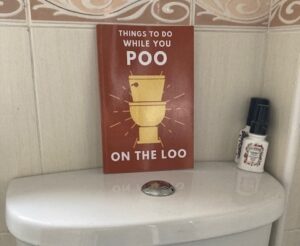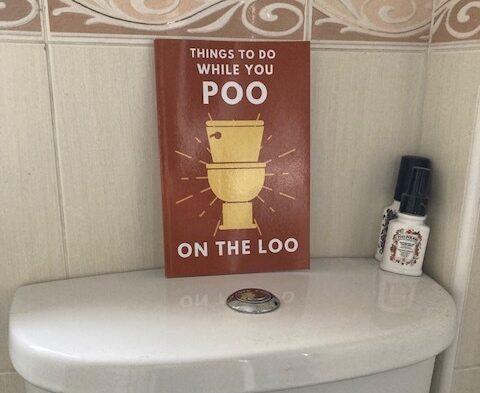 **Disclosure: This is an affiliate link – if you purchase from this link I may receive a few pennies from Amazon. It doesn't increase the price you are paying.
---
Personalised Paint By Numbers Kit [AD]
I love to get creative when I can so when Paint By Numbers contacted me and offered to send me a paint by numbers picture of me in the butterfly house I couldn't say no. It is going to take me a long while to finish it around the kids but what I love most is that it comes with everything you need and you don't need to buy extra items just to do it. The website even has its own PBN picture creator so if you don't want to buy the kits then you can do it yourself. The kits have lots of different options including colours, stretcher frames and sizes so you really can make it your own.
This set would be great for the creative person in your life or someone who likes to do crafts to relax and would like a longer project. I am sure you could do it a lot quicker than I have but I am happy just plodding along with it in my spare time.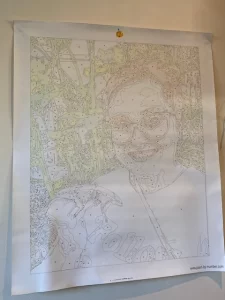 ---
Personalised Cross Stitch Set [AD]
I love to get creative and so does my Mum so when I saw the chance to get her a personalised cross stitch kit from Custom Cross Stitch I couldn't say no. It is going to take her a long while to finish it around work and Christmas but what I love most is that it comes with everything she will need and the thing extra she needs is a hoop but I know she has lots of those. The kits have lots of different options including family ones, pet ones and more, it really is an ideal gift as you can make it your own.
This set would be great for the creative person in your life or someone who likes to do crafts to relax and would like a longer project. I am sure you could do it a lot quicker but we just enjoy plodding along with our projects.
Thank you to Cross Stitch for sending this to my mum and make sure you check out their social media.
---
Thank you so much so all the brands who have gifted us items, given out discount codes and allowed us to share their awesome brands we really do like working with all of you! If you know any small brands that would like to be featured in our christmas gift guides (other holidays too) please email me at dittrichdiary@gmail.com thank you.
---
DISCLAIMER: This item has been gifted to us to review in our christmas gift guide but our opinions do not reflect on the products company, or the thoughts of any social media companies we have shared this review on.
We give our 100% honest opinions on the products we test and we have declared it is an AD and gifted as required by the ASA guidelines.
---